Enigma of Nord Stream pipelines
The world-famous, American investigative journalist, Seymour Hersh, detonated a real news bombshell by publishing a report "How America Took Out The Nord Stream Pipeline" on his website, February 8, 2023. The whole story is available there.
Information about journalist Seymour Hersh, inter alia, the following (Wikipedia):
Seymour Hersh(born April 8, 1937) is an American investigative journalist, and political writer. He received the 1970 Pulitzer Prize for International Reporting. He has also won two National Magazine Awards and five George Polk Awards. In 2004, he received the George Orwell Award.
Western mainstream media (MSM) has called it a "mystery" but the United States executed a covert sea operation that was kept secret—until now. Typically, deep and wide silence regarding Hersh article among western MSM. The Times is just one of the few media, which has commented this case, here  and other one Reuters. So called "critical news sites" in the west have discussed diligently this topic. The US authorities have naturally denied the whole story as "utterly false" but usually this means the story is "quite accurate". So far, German government comments the article by saying that "it does not have data confirming the conclusions of the American publicist Seymour Hersh about the explosions on the Nord Stream and Nord Stream-2 gas pipelines."
The US Navy's Diving and Salvage Center has been training highly skilled deep-water divers for decades. Last June 2022, the Navy divers, operating under the cover of a widely publicized mid-summer NATO exercise known as BALTOPS 22, planted the remotely triggered explosives that, three months later, destroyed three of the four Nord Stream pipelines, according to a source with direct knowledge of the operational planning.
BALTOPS 22, the premier Baltic Sea maritime exercise
Sixteen NATO Allied and partner nations concluded the 51st iteration of Baltic Operations 2022 (BALTOPS22) in Kiel, Germany, June 17, 2022. Operation time of the exercise was 13 days and consisted of 47 ships, 89 aircraft, and 7,000 personnel in the Baltic Sea. Led by U.S. Sixth Fleet, BALTOPS 22 was command and controlled by STRIKFORNATO. Participating nations included Belgium, Bulgaria, Denmark, Estonia, Finland, France, Germany, Latvia, Lithuania, the Netherlands, Norway, Poland, Sweden, Turkey, the United Kingdom, and the United States.
President Biden and his foreign policy team – National Security Adviser Jake Sullivan, Secretary of State Tony Blinken and the Undersecretary of State for Policy Victoria Nuland – had been vocally hostile to the two pipelines (Nord Stream 1 and 2). On mid-January, Victoria Nuland delivered an ominous message at a State Department briefing, with little press coverage. "I want to be very clear to you today," she said in response to a question. "If Russia invades Ukraine, one way or another Nord Stream 2 will not move forward." On February 7, Biden met in his White House office with German Chancellor Olaf Scholz. At the press briefing that followed, Biden defiantly said, "If Russia invades . . . there will be no longer a Nord Stream 2. We will bring an end to it." After the explosion of NS, Blinken called it "tremendous opportunity" and touted that US has now become "the leading supplier of LNG to Europe".
According to the US Constitution, only Congress has the power to declare war on another country. Based on Hersh's report, President Biden has usurped that authority and carried out an act of war against a NATO ally (Germany). The potential ramifications of this act include the heightened risk of the US starting a shooting war with Russia.
Hersh told that Biden's decision to sabotage the pipelines came after more than nine months of highly secret back and forth debate inside Washington's national security community about how to best achieve that goal. For much of that time, the issue was not whether to do the mission but how to get it done with no overt clue as to who was responsible.
Norway was the perfect place to base the mission. In the past few years, the US military has vastly expanded its presence inside Norway. The Pentagon has invested hundreds of millions of dollars to upgrade and expand American Navy and Air Force facilities in Norway, especially radar facilities, submarine bases and air bases.
Norway played a significant logistics and intelligence role in assisting an elite US Navy deep-diving team of divers to carry out the operation. Sometime in March, a few members of the team flew to Norway to meet with the Norwegian Secret Service and Navy. One of the key questions was where exactly in the Baltic Sea was the best place to plant the explosives. The Norwegian navy was quick to find the right spot, in the shallow waters of the Baltic Sea a few miles off Denmark's Bornholm Island.
A carefully selected group of experts from US, UK, Norway, Denmark and Sweden made the practical arrangements and preliminary operation before the real action, BALTOPS 22 was selected as a suitable cover operation. The C4 explosives were attached to pipelines and later, on September 26, 2022, a Norwegian Navy P8 surveillance plane made a seemingly routine flight and dropped a sonar buoy. The signal spread underwater, initially to Nord Stream 2 and then on to Nord Stream 1. A few hours later, the high-powered C4 explosives were triggered and three of the four pipelines were put out of commission.
While the BALTOPS 22 maneuver already took place in June and July of 2022 the US Sixth Fleet left the Baltic Sea only in late October. The amphibious assault ship USS Kearsarge, escorted by the Landing Ships USS Arlington and USS Gunston Hall, was en route towards west. Previously, the ships were part of US units that took part in NATO maneuvers and called at numerous ports in Germany, Scandinavia and the Baltic States.
Parts of the USS Kearsange operations in the Baltic Sea were dedicated to test special sub-sea mine destruction technologies. In support of BALTOPS, US Navy 6th Fleet partnered with US Navy research and warfare centers to bring the latest advancements in unmanned underwater vehicle mine hunting technology to the Baltic Sea to demonstrate the vehicle's effectiveness in operational scenarios. Experimentation was conducted off the coast of Bornholm, Denmark. Off the coast of Bornholm, Denmark, which is exactly, where the pipelines were hit. Just days ago, the USS Kearsarge was in that area.
The place of pipeline and the place of detonation operation can be found here (source: MailOnline)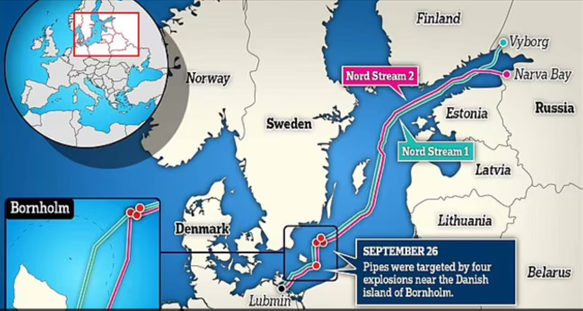 The whole operation can be seen in this picture below (source: MailOnline)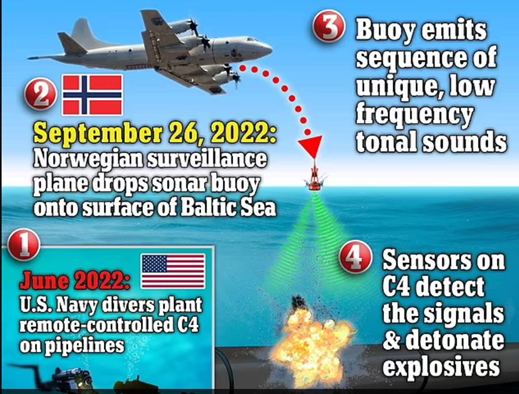 An interesting question is still hanging around this case, how many states out of those 16 participating in BALTOPS 22, were in fact involved and aware of what was really behind this exercise. In other words, this naval exercise was just the cover operation in order to explode the Nord Stream pipelines. Surely, it is clear that the US, UK, Norway, Denmark and Sweden were aware of this secret project, but who else? The setup of this operation is unbelievable: five NATO members planning and executing a terrorist strike against one NATO member (Germany).
Previous comments in my articles
I commented this episode first time in the article "Gas for Europe, European pipeline game", October 10, 2022. Some excerpts from that:
Just hours after the incident, a European Parliament Member and Poland's ex-minister of defense and foreign affairs, Radek Sikorski, was thanking the US for blowing up NS pipelines. He simply tweeted "Thank you, USA". This tweet was removed some days later.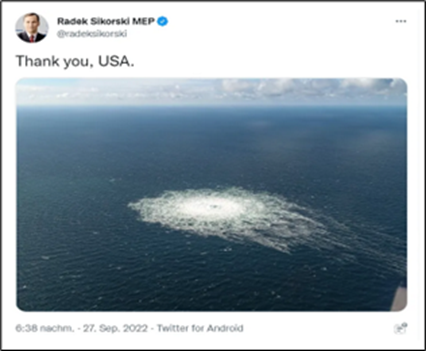 Just a few days after the incident, during a joint press conference with his Canadian counterpart, Secretary of State Antony Blinken observed that the damage to the multibillion-dollar pipelines as a "tremendous opportunity" to reduce European reliance on Russian energy imports. Blinken also touted that the US had become "the leading supplier of LNG to Europe".
Retired US Army colonel Douglas Macgregor made the comments during an appearance on the Judging Freedom podcast.The former Pentagon advisor says the most likely culprits behind the Nord Stream pipeline blasts are the United States and Britain and that the attack was carried out to prevent Germany from bailing on the war in Ukraine. Macgregor suggested that the motive behind the attacks was to prevent Germany from bailing on the Ukraine war after Berlin began "to give the impression that they were no longer going to go along with this proxy war in Ukraine."
Renowned economist andColumbia University professor Jeffrey Sachs told Bloomberg TV that he believes that the US and Poland were behind the destruction of Nord Stream pipelines. He added that he is aware that his stance runs counter to the US narrative and that western journalists "are not allowed to say these things."
I also studied this topic in "Autumn Potpourri 2022", November 3, 2022. I wrote that:
On October 1st, the Kremlin said Russia's intelligence has information about London's involvement in attacks on Nord Stream gas pipelines and its Black Sea fleet in the port of Sevastopol. Spokesman Dmitry Peskov told at a press briefing in Moscow: "Our special services have evidence that the leadership and coordination of the attack on Sevastopol Bay was carried out by British military consultants. There is also evidence that Britain is involved in sabotage … a terrorist act on critical energy infrastructure, the Nord Stream pipelines."
Now, it seems that I was only partly right, the main actor was the US and the UK was only a side partner in the project.
Epilogue
Reuters news on October 29. 2022: Russia says UK navy blew up Nord Stream, London denies involvement, By Guy Faulconbridge and Sachin Ravikumar .
More recently, Victoria Nuland expressed satisfaction at the demise of the newest of the pipelines. Testifying at a Senate Foreign Relations Committee hearing in late January she told Senator Ted Cruz, "​Like you, I am, and I think the Administration is, very gratified to know that Nord Stream 2 is now, as you like to say, a hunk of metal at the bottom of the sea."
Here is the link to the video of Scott Ritter, January 8, 2023. He interviews Andrey Klincevich, a Russian statesman, military expert in the field of weapons & military equipment. Graduate of the Tver' Suvorov Military Academy and the Military University of the Ministry of Defense of the Russian Federation. Former officer of the Special Forces Regiment of the Russian Airborne Forces. They discuss: When will Russian offensive begin? Detonation of Nord Stream pipeline.  Zelensky speaks in front of UK Parliament.
Another video, February 10, by Judge Napolitano and Scott Ritter "This Russian Offensive in Ukraine – Scott Ritter" containing a very interesting discussion about "Hersh case" and current military situation in Ukraine.
Net blogger "moonofalabama" has collected up interesting data with details in two articles, Feb 8 here, and Feb 9 here.
Here is the recent video of Tucker Carlsson /Foxnews: Tucker: We were attacked for asking questions about this . The Grayzone's Aaron Mate joins 'Tucker Carlson Tonight' to discuss the explosions of the Nord Stream pipelines. The Biden administration has denied US involvement in the face of new reporting by Seymour Hersh.
BOMBSHELL REPORT: Joe Biden Gave Approval to Bomb Russia's Nord Stream Pipeline… UPDATE: White House Responds, By Jim Hoft, Published February 8, 2023
Here is the update of Sam Hussieni, Feb 10: "State Dept. Denies Latest Allegations that US Government Blew up Nord Stream" . Here also a video of the interview with Ned Price .
Flightradar24 data confirms that, between June 8 and June 16 of last year, German and US maritime surveillance aircraft P-3 Orion and P-8 Poseidon carried out regular flights over the sites of future Nord Stream explosions. There were several flights, often making many turns and loops, usually descending to low altitudes and turned off transponders in almost every flight. So, some of their trajectories remained unrecorded.
Right away, after pipeline explosions, the US plane flew from the Atlantic to Bornholm Island after passing over Denmark and then the aircraft refueled over Poland from the KS-135R refueling plane. After the refueling, the US aircraft returned to Bornholm and at about 04:45 Summer European Time, made a full circle exactly over the explosion area and started to descend gradually from an altitude of 7,300 meters to 2,200 meters and then disappeared from the radar after switching off the transponder.
The route of American P-8A Poseidon was clearly pre-planned with refueling over Poland and it was necessary to synchronize all these moments, which means that its arrival at the given time — immediately after the attack — indicates the scheduled flight and therefore, is a confirmation of the report by journalist Hersh.
Surprisingly, an independent video evidence confirms key part of Sy Hersh's Report on the attack on Nord Stream pipeline. Private American blogger, who hosts a You Tube channel that focuses on tracking US civilian and military flights has published a video. Here is the video report last September 30th that confirms part of Sy Hersh's account of the destruction of the Nord Stream 2 pipeline (relevant info starts from 2 minutes on).
Questions and comments
When studying those written & video material above, some decisive comments and questions will emerge at once:
Solid starting point is the assumption that so famous and well-respected journalist like Seymour Hersh, does not publish any report regarding so sensitive issue, without being absolutely sure and firm about its validity and reliability. From this premise, one can make some key questions and conclusions:
· Who decided to leak secret operational details to Hersh?
· What were motives of this actor?
· Is this actor an American or from some other country?
· Why now?
Moreover, some further questions and comments:
· Why did Norway take so huge risk in participating this kind of operation?
· What was a benefit / remuneration to Norway?
· Which other countries knew about this secret project during BALTOPS 22 exercise?
· The position of German government and Bundeskanzler Scholz is unsustainable, how they will react?
· What is the German government's attitude to such news, which casts a shadow of doubt over the "Allies"?
· Some German investigators admit that the explosions of pipelines could have been carried out by one of western states (The Times article above). Anyway, those German investigators confirmed, few days ago, that no trace or sign of any Russian involvement in this case.
· Commission President Ursula von der Leyen, in September 2022, urged strongly to investigate the incidence and to get full clarity of events, "what and why". She added that any deliberate disruption of active European energy infrastructure is unacceptable and will lead to the strongest possible response… but now full silence. No doubt, the EU seeks to "literally submerge" the investigation of Nord Stream sabotage as well as Hersh's report.
Still, a lot of open questions exist without clear answers.