Furthermore comparisons
The comparisons of the present military capabilities and capacities can be looked at the following statistical figures, as presented below. The key items chosen here are:
total population,
GDP (PPP-adjusted),
size of armed forces (= number of military personnel) and
military expenditure (PPP-adjusted).
Additional comparison data, based on very large statistical re-counting operation, covers conventional weapons and other key military equipment as well as nuclear weapons, assessed in various dimensions.
In statistical presentations and comparisons below, there are two groups or alliances:
The West including the US, NATO, Japan and South Korea
The East including China, Russia, CIS&CSTO, SCO, Iran, North Korea
Key statistical data of national capabilities, great powers and their alliances, 2018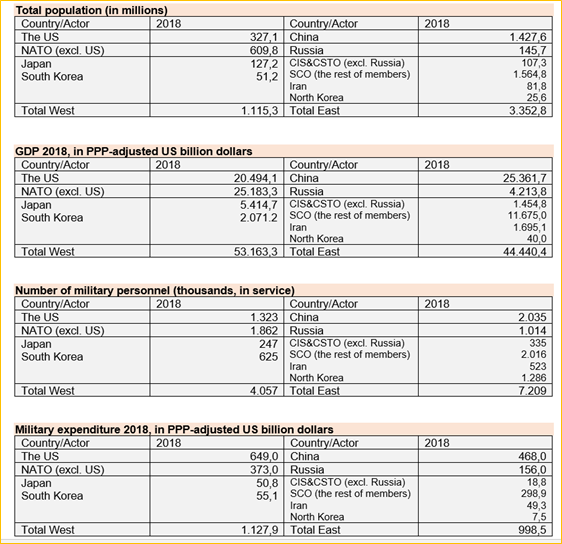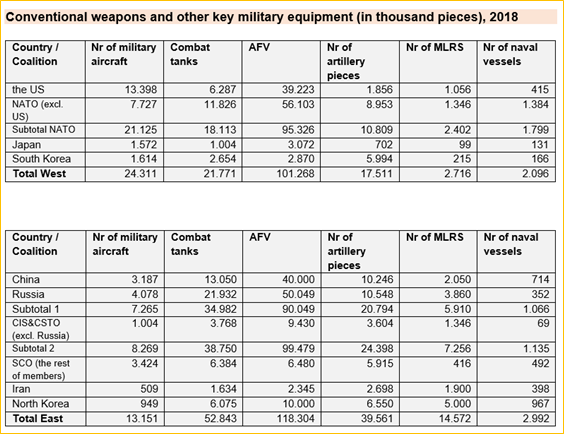 Some overall comments on above figures
the West has quite clear air-superiority, whereas
the East has a "crossing" superiority on the ground with heavy weapons
in the naval field, the situation is near- parity in quantitative measures
when taking into account the top-quality air defense technology of the East (Russia's whole air defense range), the cutting edge has moved towards east.