BRI and EAEU
The practical realization of China's Belt and Road Initiative (BRI) in the Russian Far East region is a complex and demanding project.
The pairing of the Chinese BRI and Russia's supported Eurasian Economic Union (EAEU) in recent years has turned into an important factor in the whole complexity of Russia-China interaction.
The question is not only of political and economic matters but of security and military matters too, better linking with Asian partners, integration plans of EAEU, wider security issues in Central Asian region and other important matters in the context of complex integrity.
Technical plans focus on how much to develop land-based motorways and railways, how much sea routes and air transportation network. Much practical work has been already started but they are just a prelude to the BRI-maxi projects like linking Western China to Western Europe through Kazakhstan and several other mega-size land/sea routes.
Russia and China are planning a massive infrastructure and investment project in both Koreas.
In the sidelines of Eastern Economic Forum in Vladivostok on September 11-13, 2017, Moscow and Seoul agreed on a trilateral trade platform, crucially involving Pyongyang, to ultimately invest in connectivity between the whole Korean peninsula and the Russian Far East, with China's support.
South Korean Prime Minister Moon proposed to Moscow to build "nine bridges" of cooperation meaning gas, railways, the Northern Sea Route, shipbuilding, the creation of working groups, agriculture and other types of cooperation." Japanese and South Korean Foreign Ministers both emphasized strategic cooperation with Russia and China. The idea of nine bridges cover traffic link from Japan to Eurasia and the vast trade and investment carousel offered by the Belt and Road Initiative (BRI) and the Eurasia Economic Union (EAEU).
An additional plan is to link a Trans-Korean Railway to the Trans-Siberian one. Seoul wants a rail network that will physically connect it with the vast Eurasian land bridge. Handicapped by North Korea's isolation, South Korea is in effect cut off from Eurasia by land.
The answer is the Trans-Korean Railway. Moscow's strategy, like Beijing's, is connectivity, the only way to integrate Pyongyang is to keep it involved in economic cooperation via the Trans-Korean-Trans-Siberian connection, pipelines and the development of North Korean ports.
Both Chinese President Xi Jinping and Russian President Vladimir Putin have openly discussed the possibility of uniting Eurasia and developing something wholly new entity, known as the Great Eurasian Partnership. This concept brings together the members of the Eurasian Economic Union (EAEU), Shanghai Cooperation Organization (SCO), and ASEAN as a huge free trade bloc.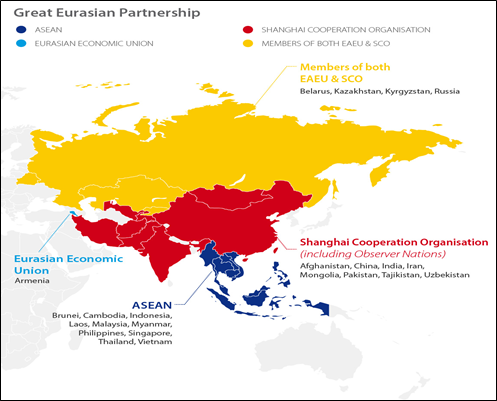 Although it will take decades to achieve, such initiatives do mean that China and Russia are going to be collaborating on trade, economy, security, military matters and overall development in deeper and more complex ways in the coming years. This will have fundamental effects on the balance of power in the whole area and also at global level.