Gas for Europe, European pipeline game
Energy security is the key for any country's sovereignty as well as for a political block like the European Union. The war in Ukraine is transforming into a war between two distinct global systems: the one led by the US, NATO, EU – the collective West and the other led by Russia, China & the Global South – the collective East. In this very complex context, the one controlling the flow of energy seems to be the one writing the fate of the future world. As Henry Kissinger noted during the oil shocks of the 1970s, "Control the oil and you control entire nations."
Gas business: LNG and pipeline gas, statistics
Liquefied natural gas (LNG) is natural gas (predominantly methane) that has been cooled down to liquid form for ease and safety of non-pressurized storage or transport. It takes up about 1/600th the volume of natural gas in the gaseous state. The natural gas fed into the LNG plant will be treated to remove water and other components that will freeze under the low temperatures needed for storage.  The most important infrastructure needed for LNG production and transportation is an LNG plant consisting of one or more LNG trains, each of which is an independent unit for gas liquefaction and purification. Then LNG is loaded onto ships and delivered to a regasification terminal, where the LNG is allowed to expand and reconvert into gas. Regasification terminals are usually connected to a storage and pipeline distribution network to distribute natural gas to local distribution companies or independent power plants. Due to its complex production process, the price LNG is much higher than the mere pipeline gas. Below summary statistics of natural gas (source: Worldatlas).

Gas consumption of and supply to the EU
With a fluctuating demand, the EU uses around an average of 394 billion cubic meters of gas per a year, from which about 45 % or 155 billion cubic meters came from Russia. The most troubling part is Germany sourcing 55 % of their gas supply from Russia. Being the EU's biggest economy and the industrial powerhouse, all troubles in the energy procurement of Germany are surely a troubled sign for the whole union.
Russian gas has been cheap, readily available and faster in getting through the pipelines. Gas from Russia is not a new discovery for the EU, which has received Russian gas for decades already from the former USSR. The benefits of the sweet Russian deals have been outweighing the risks of dependency on one partner.
Europe needs a short-term fix and a long-term solution for this energy crisis. The EU will not be able to source cheap gas from anywhere now. That is a fact they need to come to terms with. It has become a sellers' market and every supplier will demand a pound of flesh. Importing similar amount of natural gas but in the form of LNG is an expensive but viable option.
First and foremost, Europe does not have enough capacity in terms of LNG terminals and it takes time to build them. Even if that can be sorted eventually there are only a certain number of LNG carriers available in the world, which are already running at high capacities fulfilling promised contracts.
Then there are the production conditions. The production cannot be done overnight and it is a complex process. Unless a guaranteed market is promised, no producer is keen on increasing the production based on short term demand. That is exactly why Qatar and other LNG producers are demanding long term contracts. The long-term contacts at fixed prices are bad news for the gas business model in Europe, which uses the spot sales.
Alternative pipelines
The only pipeline that regularly transports Russian gas to Europe, today, is the TurkStream, via the Black Sea and the Balkans. Hungary, which opposes EU sanctions (despite being part of the EU and NATO), has signed a long-term agreement with Gazprom to receive 80 percent of the gas it needs from Russia through this pipeline. However, there are growing tensions in the Balkans, especially against Serbia through which TurkStream passes, caused by NATO's long hands, which could lead to the blocking of this last pipeline from Russia as well. This situation is part of an increasingly explosive political-military scenario. The latest info tells that even TurkStream is now under reparation work and does not deliver any gas.
Another basic solution, instead of Russian pipelines or LNG, would be for other, alternative pipelines to Nord Stream 1&2 of the Russians. There are three such possibilities in discussion and planning. First would be the Trans Saharan Pipeline followed by the East Med Pipeline Line and finally the Trans Caspian pipeline.
The idea of the Trans Saharan Pipeline is to connect Nigeria, Niger & Algeria to Europe through Italy & Spain. This pipeline has the capacity to bring 30 billion cubic meters per a year covering 10 % of EUs gas demands. The challenges to this long-proposed project are many. The region is a hot bed of conflicts and the divisions among the member states are high, which makes a high risk for any serious investor. Besides, part of Algeria's already existing connection to the EU needs a complete overhaul and could question the viability of the project. Then the active presence of Russian PMC Wagner groups in these countries, speaks volumes about the Russian hold on the political theater of Niger & Nigeria. Not to forget that Nigeria's Nigaz is a joint venture between Gazprom Russia & Nigerian National Petroleum Corporation. So, this pipeline is anything but promising.
East Med pipeline is bringing the Gas from Israel's Leviantan & Cyprus's Aphrodite gas fields to Europe via Greece & Italy. The capacity is 12 billion cubic meters per a year amounting to 4% of the Eu gas needs. Although this could be a small but a significant contribution there are major issues. For one thing, Israel and Lebanon shall have to overcome their overlapping claims for gas fields and sea borders as soon as possible. Then the field in Cyprus has to be developed. This will be one of the longest & deepest layered pipelines that might need 10 years for completion. Even if everything goes well then there is a stumbling block. Turkey with its Maritime Boundary Treaty with Libya has established an Exclusive economic zone that overlaps the claims of Cyprus. Under pressure from Turkey, the US withdrew its political support from the project citing the economic viability of the pipeline. East Med looks dead on arrival.
Trans Caspian – The third pipeline that would connect Turkmenistan, Kazakhstan and Azerbaijan gas to Europe via Turkey has a potential capacity of 30 billion cubic meters a year counting to a 10% of the EU gas needs. Gas from Azerbaijan already flows to Europe via the southern gas corridor. This section will have to be upgraded to facilitate the new capacity. According to the 2018 legal convection on the Caspian Sea, Russia holds the final say to any new pipeline across this inland sea. When Putin has the final say we do not need to go further on even looking for more reasons. In addition to Russia, Iran is vehemently opposing this new pipeline.
Nord Stream 1 & 2 pipeline explosions, Cui bono?
Europe was already in a perilous situation with an exorbitant gas price surge and a shortage. What does this sabotage mean for Europe & the rest of the world? The reaction to the sabotage of NS 1 and 2 pipelines in four places on Monday, September 26, has focused on speculations about who did it and whether NATO will make a serious attempt to discover the answer. The explosions occurred in the exclusive economic zones of Denmark and Sweden and thus were located in the area fully controlled by Sweden, Denmark and the NATO & the US.
Following the discovery of leaks from two Russian gas pipelines in the Baltic Sea, the Swedish Security Service said Thursday (6.10.2022) that the results of a preliminary probe have "strengthened the suspicions of serious sabotage." Security agency said the ongoing investigation confirmed that "detonations" caused extensive damage last week to the Nord Stream 1 and Nord Stream 2 pipelines, off the coasts of Sweden and Denmark.
Authorities of these countries said at least two detonations occurred underwater, damaging the pipelines and causing major leaks of gas. The magnitude of these explosions was measured at 2.3 and 2.1 on the Richter scale, respectively, they said, and likely corresponded to an explosive load of "several hundred kilos." Two of the leaks occurred in Denmark's exclusive economic zone and two in Sweden's exclusive economic zone.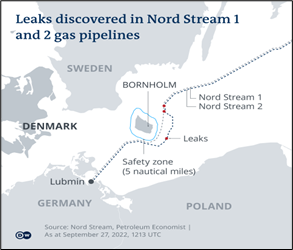 The investigations will probably take months to complete but the likely scenario is that the attacks could have been carried out as an underwater operation using advanced submarine technology. Financial losses, incurred of this sabotage, involve some weighty European players. Legally, NS-pipelines were owned by a Swiss company, Nord Stream AG, whose shareholders are Russian Gazprom (51%), German Wintershall (15.5%) and E.ON (15.5%), Danish Gasunie (9%) and a French Engie (9%). So, this is an attack not only against Russia and Germany but also against major European energy companies.
Who benefits from the death of both NS pipelines? CUI BONO? Certainly not Germany. Der Spiegel lays out the coming catastrophe "The economy is sliding almost uncontrolled into a crisis that could permanently weaken the country". That was written, when the possibility that the gas would come back was still there.
Russia's position
After the incident, Russia announced that the gas pressure is falling in three of the four pipelines and the infusion of salt water will irreversibly corrode the pipes. This Russian investment and business project, up to $ 10 billion is going to waste. Russia also lost the most important leverage in the gas business, the button of ON/OFF with which Russia could have managed to control the terms of gas delivery to Europe. So, why to destroy its own profitable pipeline system and lose this power position? It makes no sense.
It is fully illogical and against common sense to assume that Russia itself would have purposefully destroyed its leverage button and its own long-term business and money-making machine, future profit value worth of tens of billion dollars. However, the majority of western "neocons" appears to put forth this topsy-turvy idea and western MSM is, naturally, following with. Their arguments simply confirm that they never meet a severe problem anywhere, without blaming on Putin about it. President Putin for his part strongly implied US and British culpability, stating: "It's obvious to everyone who benefits from it… Those who benefit are the ones who have done it."
Poland's position
Just hours after the incident, a European Parliament Member and Poland's ex-minister of defense and foreign affairs, Radek Sikorski, was thanking the US for blowing up NS pipelines. He simply tweeted "Thank you, USA". This tweet was removed some days later.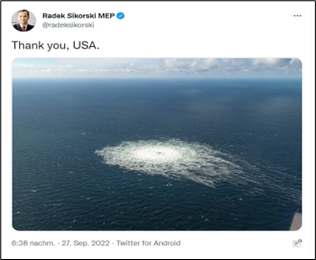 Just hours after the incident, a European Parliament Member and Poland's ex-minister of defense and foreign affairs, Radek Sikorski, was thanking the US for blowing up NS pipelines. He simply tweeted "Thank you, USA". This tweet was removed some days later.
Soon after the Nord Stream explosions, Poland launched a new gas pipeline that would transport gas from Norway through Denmark and the Baltic Sea, an interesting coincidence!
As known, Poland has opposed Nord Stream project for years and now its aim has materialized. NS-pipeline is "kaput", Poland has launched its "own" gas pipeline and last but not least, a real "jackpot": Poland managed to create a real problem for Germany, which stubbornly refuses to pay WWII reparations (the Poles want $1.3 trillion for the occupation) — the Germans lost an opportunity to buy cheap gas from Russia and faced a bitter choice: buy from Poland or from the United States.
The elimination of Nord Stream's gas supply capacity from the European energy equation also strengthens Ukraine's hand. Ukraine's fear ever since 2014 has been that if forced to choose between Russian gas and support for Ukraine, Europe might choose the former and abandon Ukraine and as long as non-Ukrainian supply routes existed, Ukraine would not be able to stop Russia from supplying Europe. This was one of the reasons why Ukraine opposed the construction of Nord Stream 2.
The American position
US President Joe Biden who had threatened on February 7 before Russia began its military operation in Ukraine, that if Moscow acted against Kiev, "there will no longer be a Nord Stream 2. We will bring an end to it." When a journalist asked Biden to clarify, he said enigmatically: "I promise you, we will be able to do that."
Both Joe Biden and Undersecretary of State for Political Affairs Victoria Nuland asserted that Nord Stream 2 wouldn't be allowed to operate if Russia attacked Ukraine. As previously reported, the CIA warned Germany of potential attacks on gas pipelines in the Baltic Sea weeks before Nord Stream 1 and 2 were targeted.
Just a few days after the incident, during a joint press conference with his Canadian counterpart, Secretary of State Antony Blinken observed that the damage to the multibillion-dollar pipelines as a "tremendous opportunity" to reduce European reliance on Russian energy imports. Blinken also touted that the US had become "the leading supplier of LNG to Europe".
But the case is not at all so simple as Blinken states. In the case of German plant that operates on natural gas, the contract with the US supplier should be signed at least one year in advance to buy gas at a set price. The European companies receiving gas this winter have signed contracts last year.
Almost all of the current production is under contract for the next two or three years and most of that is headed to Asia. When German manufacturers are going to buy the LNG, in order to keep the manufacturing plants open, they cannot just put in a last-minute order to the US LNG exporters. The US exporters do not have the luxury of breaching valid contracts just to get a better price.
The Germans and the UK folks are getting double whammy, because of the strong price of the dollar relative to the Euro and the British Pound Sterling. The foreigners have to buy dollars to make the US dollar payments. US exporters will not accept foreign currency as payment
The strong dollar adds to the inflationary spiral that is spinning across the UK and Europe. The economic deterioration in Europe and the UK will only worsen in the coming months.
Retired US Army colonel Douglas Macgregor made the comments during an appearance on the Judging Freedom podcast. The former Pentagon advisor says the most likely culprits behind the Nord Stream pipeline blasts are the United States and Britain and that the attack was carried out to prevent Germany from bailing on the war in Ukraine. Macgregor suggested that the motive behind the attacks was to prevent Germany from bailing on the Ukraine war after Berlin began "to give the impression that they were no longer going to go along with this proxy war in Ukraine."
"Would the Russians destroy their own pipeline? 40 percent of Russian gross domestic product consists of foreign currency that comes from natural gas, oil, coal and so forth. So, the Russians did not do this. The notion that they did I think is absurd," Macgregor said.
Citing reports that more than 500 kg of TNT had been detected in both explosions, the former Pentagon advisor suggested only the United States and British Royal Navy had the capability to pull off the attack. "Then you have to look at who are the state actors that have the capability to do this. And that means the UK Royal Navy or the United States Navy Special Operations," said Macgregor.
An interesting detail, back in June of this year, NATO conducted its annual BALTOPS military exercise in the Baltic Sea. This year's exercises had significant focus on using US Navy unmanned underwater vehicles to clear sea mines. Moreover, not mentioned by the mainstream media, the BALTOPS exercise was held near the coast of Bornholm, an island off the east coast of Denmark, precisely where the explosions and gas leaks occurred.
Fox News television personality Tucker Carlson also implied a US role in the explosions. "If you are Vladimir Putin, you would have to be a suicidal moron to blow up your own energy pipeline," Carlson argued. "That's the one thing you would never do."
Renowned economist and Columbia University professor Jeffrey Sachs told Bloomberg TV that he believes that the US and Poland were behind the destruction of Nord Stream pipelines. He added that he is aware that his stance runs counter to the US narrative and that western journalists "are not allowed to say these things."
In particular, Sachs cited several reasons to back his assumption. First, "direct radar evidence that US military helicopters that are normally based in Gdansk were circling over this area". Second, Biden's threat earlier this year that "one way or another, we are going to end Nord Stream". Third, "a remarkable statement from US Secretary of State Antony Blinken last Friday in a press conference, where he said "this is also a tremendous opportunity."
Michael Hudson, a research professor of Economics at University of Missouri, has made number of books, articles and other publications regarding economic and political relations between Europe and the US. He is in the similar lines as professor Sachs. Also, another known American economist Dr. Jack Rasmus (from California) shares their views in this case in his numerous articles and public statements.
Mr. Ron Unz, an US technology entrepreneur, political activist, writer and the publisher of the Unz Review, while commenting on the Nord Stream sabotage, explained "It was certainly a dramatic escalation of American lawlessness. I think the American government was fearful that the Germans would politically crack in the next few months under the strain of the very difficult loss of Russian energy and decided to forestall that possibility. It was intended to cut off any German line of retreat."
Europe's pathetic destiny
Based on all the above discussed factual conditions, finding possible new inexpensive pipeline gas sources to Europe, is no more possible. Each possible alternative pipeline system entails severe problems even insurmountable difficulties. The EU has to agree with the fact that inexpensive Russian gas could not be totally replaced under any realistic circumstances. But that is not the worst of all news.
The biggest challenge to the European Union's energy security is none of the above. Studying the holdings of the biggest proven gas reserves of the world gives the ruthless answer to the issue. The three biggest gas reserves in the world goes to Russia, Iran and Qatar. They have a well-structured organization that goes as GECF or "Gas Exporting Countries Forum". This is a collection of 19 countries amounting to 71% of the entire global gas reserves, an ongoing capacity of 42% of market production, 55% of LNG exports and 53% of pipeline trade. The ultimate objective of the forum is to form a cartel as OPEC to control the production, prices, transportation to the entirety of natural gas.
Natural gas will play the single most significant role in energy security for the next 40 to 50 years until the world reaches its transition to renewable energy in full. For four decades to come, this kind of cartel could just sit on their respective capitals and control the whole world as they please. Needless to say, the EU is doomed to lose in the great gas war both in the short term and in the long term.
Reduced energy supply due to the sanctions against Russia will leave Europe scrambling for oil and gas well after the coming winters as the current crisis is not "a one winter story," according to analysts at consultant Energy Aspects.
"This is not a one winter story, let's just make it very, very clear," Amrita Sen, founder and director of research at Energy Aspects, told to Bloomberg. Europe will need to ration demand in order to be able to balance the market, not only this winter but also the next winter and potentially the one after that, she noted.    
Next winters (1-3) are going to be very challenging for all of Europe's gas consumers: households, businesses and industry but moves are in play that will fundamentally change the continent's position in global gas markets.
Therefore, whoever struck Nord Stream struck had a perfect sense of timing. This terror act is state-sponsored and it only highlights that there are powerful forces, who want the conflict to prolong as long as possible.
The War Lobby has made sure that European countries have no means to return now to source cheaper Russian gas for salvaging their wobbly economies. As the Hungarian Prime Minister Viktor Orban remarked sarcastically, the American oil companies have become "war profiteers." The US not only replaced the Russian energy supplier but is forcing the Europeans to pay 8-10 times the contracted price with Gazprom.
Realist's deliberation
So, who did it and why?
With high certainty, one can say that the majority of analysts share the following conclusion: Germany is the biggest loser and sufferer in this case; it was not Germany, who did it.
As to Russia, Tucker Carlson put it aptly and accurately, "only a suicidal moron blows up his own energy pipeline". Russia has no real motive to do it, on the contrary, Russia is a big financial and business loser in this case.
Poland is one under a cloud, they have a motive and willingness but… do they really have sufficient capabilities, know-how and equipment? I doubt.
All the realist observers have to share the conclusion that a Big Winner from Nord Stream destruction is the US, both economically and politically.
As retired US Army colonel Douglas Macgregor put it: "Then you have to look at who are the state actors that have the capability to do this. And that means the UK Royal Navy or the United States Navy Special Operations."
Once again, who did it? At the end of the day, nobody knows with 100% certainty based on factual proofs. It appears to be highly likely that factual proofs will be never disclosed.