Walking the path of death and destruction
Biden Administration's concern
The Biden administration reportedly thinks that Ukraine's counteroffensive will stop in about 6-7 weeks. A report in The Economist states that "there are private disagreements over how much progress can be made in that time." The report says one viewpoint is that "Ukraine's army, having thrown in most of its reserves prior to breaking the second line of Russia's defenses and taking heavy casualties attempting to breach it, is unlikely to get far.
On Sunday, September 10, "Ukraine's forces have around a month left to push back Russian troops from captured territory before the weather halts Kyiv's progress", according to the US military top soldier, General Mark Milley, the Chairman of the Joint Chiefs of Staff. He told the BBC, that Ukraine's forces have between 30 to 45 days left of fighting before the fall weather conditions stop their advance.
But with progress slow and the counteroffensive launched later than Ukraine had intended, worsening weather conditions and Ukraine's muddy season, known as rasputitsa, could play against Kyiv's hopes of reclaiming swathes of annexed territory. This presents an added risk to Ukraine's counteroffensive forces, as the Western-made main battle tanks may end up getting stuck in the quagmires.
With the arrival of US Secretary of State Anthony Blinken to Kiev, the Armed Forces of Ukraine have intensified their operations at the front in an attempt to demonstrate at least some successes from their counteroffensive. The picture of two foreign ministers below tells more than thousand words.
The hypocrisy of Biden administration at its top.
Please, look especially at the outward appearance of those ministers and the direction of their gaze.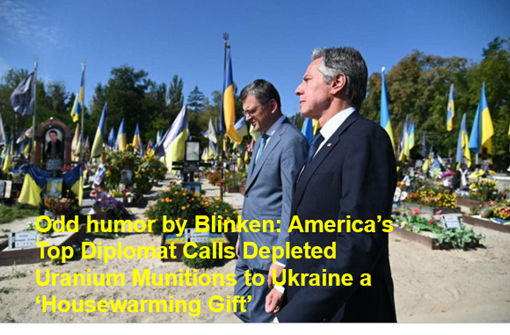 Kyiv's Troops Failing To Stop Russia? Zelensky May Halt 'Bloody' Counteroffensive – Report, video September 8, 2023
In the interview of ret. Col. Douglas MacGregor by the German paper, Die Weltwoche, he noted that Ukraine has already lost 400,000 soldiers, which is more than the US lost in the entire WWII.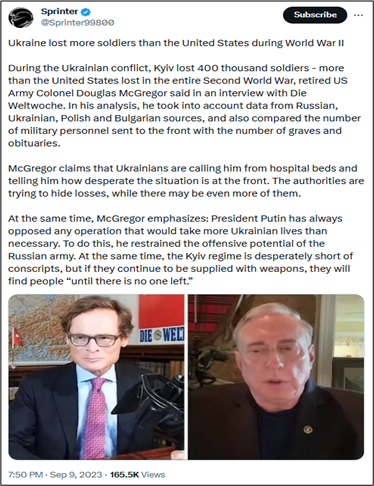 Douglas Macgregor: America Is Courting Catastrophe With Russia
GoTranscript Test , September 9, 2023
Ukraine latest large-scale drafting and mobilizing measure a signal of desperation
In the West, not much has been written on Kiev's most recent mobilization efforts. The country is in fact taking drastic and desperate measures, such as mobilizing men over 50 years old (up to even 70) and those who would normally be deemed as physically or mentally unfit for service. Also, young men, aged 16-18 and students are now targeted as well.
In addition, Ukraine is turning to its European partners with requests to extradite expatriate Ukrainians dodging conscription – considering European rules and regulations and euro-bureaucracy, satisfying Ukrainian military appetite for badly needed men will of course be no easy task. It is also not clear how much help unwilling demotivated unfit or over-aged men will provide.
From a Western perspective, this conflict has largely been a US proxy attrition war against Russia – but it has been backfiring. The West added fuel to the fire by its "triple package", in political scientist John Mearsheimer's words, of "NATO enlargement, EU expansion", and so-called "democracy promotion" in Ukraine.
Former US ambassador to Finland, Earle Mack, who has visited Ukraine several times on humanitarian missions, predicts that Ukrainians are approaching "a decade of death and chaos", with over 10 million having left the country. About 5.5 million from Ukraine and Donbass have fled to Russia, many of them with no intention of going back home. The dramatic loss of population plus the damaged infrastructure are exhausting the country. The emotional and psycho-social factors should not be underestimated.
Ukrainian tremendously high corruption can thrive also thanks to Western interests. American weapons manufacturers, for one thing, would profit from making the conflict perpetual. When corruption reaches a high level, it tends to permeate the whole social fabric of a given country and its institutions. Thus, it is hardly surprising that a black market pertaining to draft evasion has emerged and with the latest strict measures one can expect it to increase.
RUSI Report, September 4, 2023
Stormbreak: Fighting Through Russian Defences in Ukraine's 2023 Offensive
Dr Jack Watling and Nick Reynolds, 4 September 2023
A British think tank analyzed the failures of Ukraine's counteroffensive on September 4. According to the report, prepared by two analysts from the Royal United Services Institute (RUSI) and cited by Newsweek, Ukrainian forces are facing enormous losses of equipment and the training provided by the West is not adapted to the type of battle they are fighting against Russia. "Attempts at rapid breakthrough have resulted in an unsustainable rate of equipment loss," the London-based think tank reported.
RUSI calls Russia's actions during the counteroffensive "a tactical success," noting that the Russian military had inflicted enough equipment losses on Ukraine early on to degrade the scope of the ordered manoeuvres. The analysis also noted that the counteroffensive was limited by the poor training of Ukrainian soldiers, explaining that the methods taught by NATO are designed for forces with different configurations than Kiev's troops. The report also highlights the adaptation capacity of Russian forces on the battlefield, pointing out this element as key to their success.
The RUSI study is the most recent international assessment that accounts for Ukraine's failure in the conflict with Russia. European and American media and officials have admitted this failure after several months of baseless triumphalist coverage of what was happening on the ground.
The RUSI report is unique because it comes from Britain, which has a fully controlled narrative on the war, unlike even in the US, where some Republicans and certain corners of the media openly disparage Ukraine. This is one of the first major British information sources to openly and categorically acknowledge that Ukrainian forces are struggling and that Russia has achieved "tactical success." It is a widespread belief now that the counteroffensive has failed, with Kiev and London being the only strongholds contesting against this. However, as the RUSI report demonstrates, the gripping reality is slowly beginning to set in even in London.
The Russian Ministry of Defenses has provided a detailed summary of Ukrainian losses during the week period September 2 – 9.
According to the ministry, the Russian military carried out six group strikes with high-precision long-range sea and air-launched weapons against Ukrainian signal reconnaissance facilities, port infrastructure, naval drone production facilities, Western-made weapons, ammunition and fuel depots as well as training bases for AFU sabotage groups.
According to the ministry, all attacks in the Zaporozhye direction were repelled by Russian forces who neutralized 845 Ukrainian troops, 27 tanks and armored fighting vehicles, including one British-made Challenger 2 tank and 25 other vehicles. At least 63 Ukraine field artillery guns were also destroyed in counter-battery fire. "The 82nd Air Assault Brigade of the AFU alone has lost up to 500 troops, who were killed or wounded over the past week," the ministry said.
In the South Donetsk direction, Russian forces repelled four attacks and launched several strikes against Ukrainian gatherings. The ministry said that Ukrainian losses in this direction amounted to 1,230 troops, 24 armored fighting vehicles, 37 motor vehicles and 17 field artillery guns over the past week.
In the Donetsk direction, the Russian Yug Group of Forces repelled 56 attacks by Kiev forces over the past week. During the fighting, 2,100 Ukrainian troops, 23 tanks and other armored fighting vehicles, 45 vehicles and 30 field artillery pieces were neutralized.
In the Kupyansk direction, the Russian Zapad Group of Forces continued to improve the tactical situation in their areas of responsibility by conducting active operations. Over the past week, the group repelled 22 attacks in this direction. Kiev forces lost up to 425 troops, eight armored fighting vehicles, 18 cars and pickup trucks and 15 artillery pieces, according to the ministry.
Meanwhile in the Krasny Liman direction, 12 enemy attacks were repelled by the Russian Tsentr Group of Forces. Ukrainian losses amounted to 450 servicemen, 13 armored fighting vehicles, 15 motor vehicles and seven guns.
In the Kherson direction, the main efforts of Russian forces were concentrated on defeating Ukrainian troops, preventing landings on islands in the Dnieper River bed and counter-battery warfare, the ministry said. An attempt to land troops in the area of Tendrovskaya Spit Island was prevented and five Ukrainian sabotage and reconnaissance groups were destroyed. According to the ministry, 355 Ukrainian troops, one tank, 32 vehicles and 12 field artillery guns were neutralized in this direction over the past week.
Ships of the Black Sea Fleet during combat duty in the southern part of the Kerch Strait have detected and destroyed three Ukrainian unmanned semi-submersible boats attempting to attack the Crimean bridge. In addition, four high-speed boats with landing groups of the AFU special operations forces, totaling up to 50 Ukrainian servicemen, were eliminated by Naval Aviation aircraft in the waters of the Black Sea west of the Crimean Peninsula.
On September 8, a Russian Kh-50 cruise missile struck the police department in the city of Krivoy Rog. The Russian forces conducted the attack at the moment, when Ukrainian security forces and NATO officers were holding a meeting there. According to Turkish media, 40 people were killed and another 60 were injured as a result of the Russian attack. "In Krivoy Rog, an administrative building, in which a meeting of Ukrainian security forces was supposedly taking place, was destroyed," news agencies said. A new strike in Krivoy Rog was made on the night of September 11 as well as in Sumy, Chernihiv and Kiev.
The second British tank Challenger 2 was knocked out by the anti-tank missile system Kornet on September 8. Russia has announced that Russian Forces would be able to respond to the challenge by taking in use hundreds of thousands of such shells available in storages.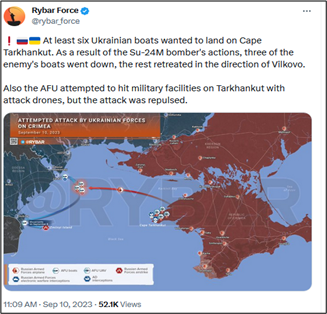 Secretary General Jens Stoltenberg publicly acknowledged Russian invasion is due to NATO eastward expansion and other NATO affairs
On September 7th, NATO's Secretary General, Jens Stoltenberg, acknowledged that the war in Ukraine did not start on 24 February 2022, when Russia invaded Ukraine, like Western media say but much earlier, in 2014, and that Russia's invasion in 2022 resulted from NATO's efforts to bring Ukraine into NATO and to bring NATO's military forces closer to Russia's borders: "He [Putin] went to war to prevent NATO close to his borders."
Opening remarks by NATO Secretary General Jens Stoltenberg
at the joint meeting of the European Parliament's Committee on Foreign Affairs (AFET) and the Subcommittee on Security and Defence (SEDE) followed by an exchange of views with Members of the European Parliament. September 7, 2023.
NATO Chief: NATO Expansion Caused Russian Invasion
Consortium News, September 9, 2023.
During a speech at the EU Parliament's foreign affairs committee on Thursday, NATO Secretary General Jens Stoltenberg clearly and repeatedly acknowledged that Putin made the decision to invade Ukraine because of fears of NATO expansionism.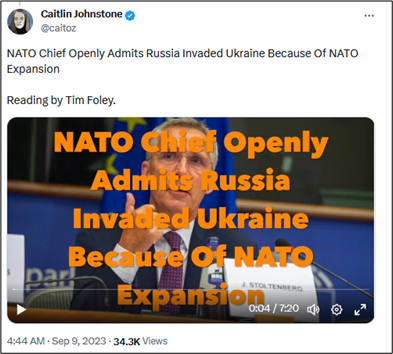 Is NATO Learning About Its Future in Ukraine?
With Ukraine faltering, NATO needs to learn some lessons
Weapons and Strategy, Substack by Stephen Bryen, 6.9.2023
Stephen Bryen is a senior fellow at the Center for Security Policy and the Yorktown Institute. This article was originally published on Weapons and Strategy, his Substack. 
Ret. British Colonel Richard Kemp shares the view that "Ukraine's counteroffensive is stalling. The West must prepare for humiliation".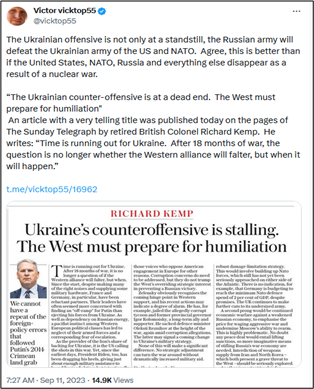 Interesting statement by Polish General Raimund Andrzejczak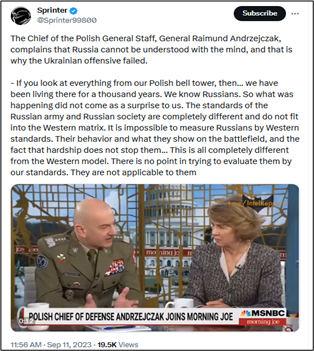 Conversation in Twitter
Chay Bowes, @BowesChay
Why Ukraine's defeat could mean the end of NATO in its current form. As the West's proxy war in Ukraine slips inexorably towards utter failure, the neocons behind the debacle are faced with dwindling avenues of retreat.
Analysis by Scott Ritter: Ukrainian counteroffensive's last desperate push
Anyone being interested in military doctrines and their practical implementation should read this top professional article about the Russian defensive doctrine implemented right now in Ukraine.
Scott Ritter: Ukrainian Counteroffensive's Last, Desperate Push
Veterans Today, By Jonas E. Alexis, Senior Editor, September 9, 2023
Scott Ritter, former US Marine Corps intelligence officer and UN weapons inspector
Here below some excerpts from Ritter's article:
Ukraine is gaining ground in its counteroffensive started in June, claimed NATO Secretary-General Jens Stoltenberg on Thursday, addressing lawmakers at the European Parliament. Does that mean Ukraine has finally achieved a breakthrough after nearly four months and heavy casualties?
"To answer that question, we have to know what the goals and objectives of the current phase of the Ukrainian counteroffensive are," Scott Ritter said.
The stated objectives put forward by General Zaluzhny, echoed by President Zelensky and other Ukrainian officials are: to break through the first line of Russian defenses, the second line of Russian defenses, seize the town of Tokmak, and then use that as a launching point to penetrate deeper through the Russian defenses to seize the city of Melitopol, which would enable them to sever the land bridge between Crimea and Russia and bring Crimea under direct attack. However, these objectives have not been reached so far, noted Ritter.
What's actually going on in Rabotino and Verbovoe is part of a new Russian defensive doctrine, explains the former Marine intelligence officer.Russia always had a primarily defensive doctrine inherited from the Soviet times. But this new defensive doctrine that's being implemented, especially in the Zaporozhye front, is the brainchild of Lieutenant General Alexander Romanchuck, former deputy commander of the 58th Combined Arms Army.
In accordance with the doctrine, "the purpose of the forward defensive zone is to receive an enemy attack to help break it up, to use defensive belts, minefields, obstacles, what they call, 'fire cauldrons' or 'sacks' where you want to force the enemy to come in so you can hit them with artillery, to break up the attack, but not to hold and die," explained Ritter.
"That is, as the enemy presses forward, the idea is to minimize your own losses by withdrawing back to prepared positions and continuing to bring the enemy under increasing levels of firepower from the air, from artillery, from anti-tank guided missiles, etc., all the while bogging them down with minefields and other obstacles."
Russia has forced the Ukrainian military to burn through their reserves and ammunition while storming the first line of defense, according to Ritter. The strategic reserve is being committed because the initial wave of the attack, the follow-on attack, have all failed to break through the defensive zone in front of the first line of defense.
Why are Ukrainians pushing forward despite failing to make progress? "This is a political question that can only be answered by the Ukrainians," said Ritter. Kiev wants to demonstrate to the West that the billions of dollars of assistance have not been given in vain and that if Ukraine asks for military assistance, it will effectively use this military assistance to further not only Ukrainian objectives, but NATO's objectives as well. While Ukraine's objectives include the physical reconquest of territory Ukraine believes belongs to it, NATO's goal is not so much about achieving decisive military victory on the battlefield, but to inflict pain on Russia.
Who is to blame for Ukraine's failing counteroffensive? While one cannot absolve Ukraine of its responsibility for the unfolding havoc, one cannot absolve NATO either, according to Ritter. "Let me make it clear here. This counteroffensive was never going to work. Ever. General Christopher Cavoli, the commander of US forces in Europe and the Supreme Allied Commander of ground forces, when he spoke to a Swedish Defense Forum in January of this year, said the scope and scale of the violence taking place in Ukraine today is beyond the imagination of NATO. So, when he says that what's happening in Ukraine is beyond the imagination of NATO, it means he's saying that NATO is not prepared for this kind of war."
The crux of the matter is that the Pentagon and NATO commanders have never conducted "combined arms warfare" in their career, having spent the last 20 years involved in "low-intensity conflict operations" in Iraq, Afghanistan, Syria and elsewhere. As a result, American officials and officers, NATO officials and officers, are trying to teach Ukrainians about a doctrine – combined arms warfare – which they themselves are not masters of.
What's the End Game? Ritter noted that Ukraine's botched counteroffensive appears to have brought NATO commanders from their fantasy world – in which Russia is "weak" and its military is "failing" back to the ground. For the first time, you're starting to hear Pentagon officials talk about Russian competence. Now the West is facing a dilemma of how to mitigate the consequences of the imminent defeat.
In the West right now, there's a lot of talk about, 'how do we get ourselves out of this?' But it has to be done in a way that doesn't pull the rug totally out from under the feet of the Ukrainians. Because if you get too far ahead and when talking about the capitulation as the endgame, there's not much left for the Ukrainian troops to fight. And you might find that collapse will be the endgame," Ritter concluded.
Epilogue
Antony Blinken signaled, on September 10, that the US would not stop Ukraine from using American-made ATACMS missiles to attack targets inside of Russia. Blinken's comments are the latest example of Washington's slow-moving approach to breaking through Russian red lines in the conflict.
There is a danger that as Washington grows more confident that it needs not to fear Russian retaliation, Putin is coming under growing pressure to enforce redlines against the US. During last 12 months, the American escalation has made several heavy steps: HIMARS, M1Abrams tanks, F-16 fighter jets, ATACMS missiles, AFU's growing attacks inside Russia.
Meanwhile, Russian hawks have grown increasingly worried arguing that the Russian leader must do more to deter American involvement in the war. This increase in pressure could push Putin to make some drastic move.
Referring to all previous texts: a) the Kremlin's internal critics are growing louder as Moscow fails to back up threats against Washington's involvement in the war and Russian hawks push Putin to escalate as the US crosses more "red lines"; b) Ukraine's counteroffensive is stalling and the West must be prepared for humiliation
Stakes are getting higher all the time. Much of this debate centers on a key question: Should the Biden administration encourage more Ukrainian attacks within Russia and should the US take further steps on the escalation ladder?
Blinken's recent comments suggest that the Biden administration has shifted its position on this question from a hard "no" to a tacit "yes", thus opening the path toward accelerating escalation. In other words, towards a direct hot war between the US and Russia, between two powers with the biggest nuclear arsenal.