Russia's withdrawal from Kherson in the "Big Picture"
Many Western experts have again disclosed their confusing incomprehension regarding Ukraine crisis and particularly the event "Russia withdrawing from Kherson". So, let's take the Big Picture under examination and try to figure out, what is the name of the game and in which kind of context.
When approaching to Ukraine crisis or war, it can be seen at least in three dimensions: economy and energy, optics (media, PR, people's minds), actual military war on the battleground. Let's look them, first separately, and then combined together or in Big Picture.
Economy & energy – investors and financiers
The currency market, which is controlled and conducted by private investors and financiers, is indisputably and in neutral way showing the changes in the respective values of the currencies on the two sides. The values of today versus on 1 January 2022, which initial date was before Russia would invade Ukraine on 24 February 2022 and would promptly be hit by an all-out economic war against Russia: intense primary and secondary sanctions to create an economic iron wall between East and West, an economic blockade by the West against Russia.
Here are those economic changes and the clear victor, thus far, in the war's economic front.
The value of the ruble relative to the dollar.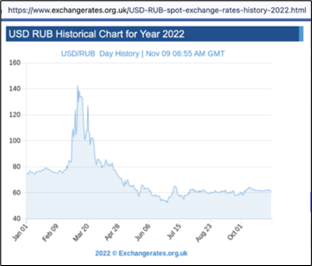 The value of the ruble relative to the pound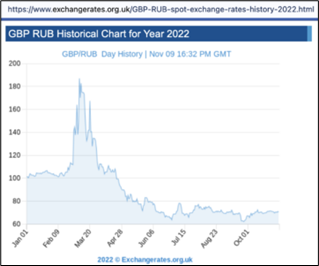 The value of the ruble relative to the euro.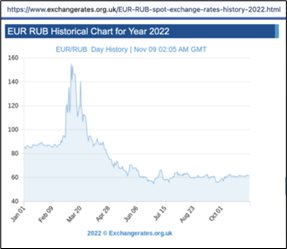 As figures above unequivocally show, the clear victor in each of these three graphs is Russia. The similar picture can be disclosed in many other economic statistics; surplus of Russian foreign trade is record high, trade with China, India and several other Asian countries is growing significantly, economic and other relations with majority of African countries developing rapidly, government budget nearly balanced, domestic full employment, energy business booming, domestic trade and industry substituting the imports is growing very rapidly etc.
As the pictures show: The immediate response by investors to the 24 February 2022 invasion was to think that Russia's economy would be crushed by The West but, ever since May, there has been a remarkably stable belief by investors that instead Western (US/UK/EU) economies will be crushed — crushed by what? Crushed by the Western sanctions and by the US/UK blowing up the Nord Stream pipelines in order to lock Europe out of what was and had long been Europe's cheapest and most plentiful energy-source, which is Russia.
Now, both consumers and industry in the EU will be grossly overpaying for energy (American LNG is four times more expensive than Russian pipeline gas), because their governments are allied with UK/US against Russia. They will be paying a hefty over price for many years to come.
War in optics (media, social media, PR-hype, people's minds)
Western media
So far, this has been the area, where Russia has suffered its biggest losses, from the very beginning. Western mainstream media has unanimously condemned Russia's invasion and simply refused to understand any aspect or stance Russia has presented in this case. This total negativity matters both for the negotiation period before the crisis and for the time thereafter. The similar fully negative stance was seen also in the attitudes of western officials, when negotiating with their Russian counterparts, late 2021 – early 2022, and also after February 24 this year.
Amid the US midterm elections, the media launched active discussions of the possibility of the negotiations between Kiev and Moscow. Reports by the MSM that Washington allegedly inclines Kiev not to abandon diplomacy are largely explained by the pre-election situation in Washington. However, Ukraine has been reluctant to engage in any negotiations with Russia.
While in practice the US has been, so far, blocking the possibility of a peaceful end to the conflict in Ukraine by all means, the media have circulated statements that the Biden administration secretly calls on Zelensky and his team to show openness to negotiations with Moscow. However, such reports were mostly aimed at the US population as well as on other Ukrainian partners, who see no more sense to support the "black hole" in Kiev. According to some media statements, the US and NATO have allowed the start of negotiations, if Kherson is captured by Kiev forces. In this case, Kiev will be able to start a dialogue from a position of strength.
Russian media
The longer Russia's invasion of Ukraine continues, the more prominent the party of war becomes in Russian media. At the beginning of Russia's "special military operation" in Ukraine, the Russian elite was divided into war and peace camps. The latter was made up of the regime's many technocrats, political liberals within the system and influential businessmen.
Instead, the media was dominated by the party of war, represented primarily by Kadyrov, Medvedev, Prigozhin, State Duma speaker Vyacheslav Volodin and head of the United Russia ruling party Andrei Turchak. There is no hierarchy within this camp, nor is it even a consolidated group. Hardly a day goes by without a headline-making statement by the most outspoken ultrapatriotic, anti-Western hawks. Unlike Medvedev and Kadyrov, Prigozhin does not have a Telegram channel. He does, however, have an entire pool of media assets ­– including an army of internet trolls – that ensure he is never far from the news and therefore the presidential press review.
They have used their vocal support for the war to raise their public profile but have they actually gained any more influence as a result? After all, in the Russian power system, a person's importance is determined not by their media activity but by the proximity of Russian President Vladimir Putin.
It's difficult to discern any real growth in the influence of the hardliners. They are trying to push Putin to escalate, demanding that he raise the stakes. But there are no signs that Putin is actually listening to them. Turning popularity in the media into real influence was not easy during peacetime, not to mention now in wartime.
After Russian Ministry of Defense's (RMOD) announcement November 9, high-profile Kremlin loyalists voiced support for the military's decision to withdraw from the strategic southern Ukrainian city of Kherson. Margarita Simonyan, the head of the state-funded RT network, said the retreat was a necessary move to avoid exposing Russian troops on the right bank of the Dnieper. Yevgeny Prigozhin said the "extremely difficult" task of withdrawing troops with minimal losses would be "the greatest achievement that Surovikin will have to accomplish." Chechen strongman Ramzan Kadyrov voiced "full agreement" with Prigozhin, calling the recently appointed commander's decision "difficult but fair."
Act of realist – Ex oriente lux
So, why is the withdrawal from Kherson being touted as a disaster for Russia and glorious victory for Ukraine?
Because it looks bad. It looks like Russia is losing or running away from a fight. This may frustrate the watchers among the global audience, who are eager to see a major clash. Some are pulling for Kiev and others are cheering for Moscow.
General Surovikin understands that the opinions of the "watchers" are irrelevant. He will fight at a place and time of his choosing. What is noteworthy about the Russian withdrawal from Kherson is that it was not done under fire or attack but orderly in a pre-planned way.
Bloggers, Telegrammers and commenters do not get to vote for who is the winner in Ukraine. That will be decided by who can put the most combat effective troops on the field, who can feed and supply those troops with the weapons and ammunition they need to fight and who can destroy the opposing army, economy and political system.
It is quite interesting to note that, while the western world (the US, Europe, Australia, Japan, S Korea) holds a tough posture on Russia, other kind of behavior can be found in Asia, Africa and Latin America, among the majority of the humankind.
No doubt, the world is transforming also mentally in two big camps – US-led western camp and China & Russia-led eastern camp. On the other hand, polycentric trends and multipolarity are emerging in world politics. Very fundamental transformation is taking place right now. Europe and the western block seem not to realize this profound change and the fact that they (=western block) are already a minority in today's world.
Actual military situation on the battlefield – in various frontlines
Kherson region – What has happened
Kherson became the first major region to fall to Russian forces after the war began. It had been Russia's biggest military achievement of the conflict, in part due to its strategic location and proximity to Crimea.
The RMOD said on Wednesday November 9, it was withdrawing its forces over the Dnieper River in southern Ukraine's Kherson region. The withdrawal announcement was made by Defense Minister Sergei Shoigu and General Sergei Surovikin, the commander of Russia's forces in Ukraine. Withdrawing its approximately 20,000 troops over the river will enable Russia to consolidate its defensive lines, Surovikin said, using the vast waterway, which is over a kilometer wide, to defend its positions.
Following the withdrawal, the Kremlin said that the city of Kherson as well as Kherson region are still part of Russia. "This is a subject of the Russian Federation. There are no changes in this and there cannot be changed," Kremlin spokesman Dmitry Peskov told reporters.
According to the Russian Military Command, the decision was caused by military necessity, it is a tactical operation. The Russian grouping on the right bank suffered from supply difficulties, as the crossing of the Dnieper was under constant fire from Ukrainian forces.
"The decision to defend on the left bank of the Dnieper is not easy but at the same time we will save the lives of our military personnel and the combat capability of our forces," Surovikin said. Kherson and adjacent settlements cannot be fully supplied or kept functioning. People's lives are constantly in danger," he added. When announcing this, over 115.000 civilians had already been relocated over the river.
However, analysts questioned whether Russia will be able to conduct an orderly retreat from the city. "We will see now how orderly Russia's withdrawal is," William Alberque, director at the International Institute for Strategic Studies, told to media. Shortly after the announcements, Kyiv claimed "We see no signs that Russia is leaving Kherson without a fight," Ukrainian presidential advisor Mykhaylo Podolyak tweeted, suggesting the announcement could be a ploy and calling the order made by Shoigu a "staged TV statement."
The above-mentioned statements disclose that Russia misled totally both the media, Western military analysts and experts as well as the AFU and Ukraine's political elite. The whole withdrawal and redeployment operation was a well-planned and executed diversion operation, which ended on Friday, November 11, at 05.00 in the morning. All troops, with equipment and material over the river without losses, no doubt the operation was already started some weeks ago.
The Russian retreat from Kherson was a tactical maneuver to buy more time for several measures needed in future military campaigns. Locally and regionally to secure the stability of Kherson region but in broader military view to finalize the deployment of partial mobilization. Both Ukraine and Russia fear that the other party will strike the Kakhovka Hydroelectric Power Plant and the dam causing a large environmental catastrophe.
On the other hand, some political analysts allege that this situation discloses a possible secret deal between the American and Russian top military staff to conduct and control the battlefield operations, in order to prevent nuclear holocaust. What else does it mean, like possible peace or ceasefire talks behind the scenes, remains to be seen.
Other regions
By and large, all the frontlines are now stable, some artillery duels and sporadic scout attacks. In Kharkov region and in Krasny Liman direction, AFU resumes its unsuccessful attempts to break Russian lines, getting more and more daily losses. In South Donetsk direction, Russian troops are slowly advancing as in Bakhmut direction.
AFU may try to make one push in Zaporizhzhia oblast and possibly also try a commando type attack on Zaporizhzhia nuclear power plant with the aim to get full control over it.
The withdrawal from Kherson appears to be "the last Russian retreat" in this war. Political pressure inside Kreml administration and among domestic politicians may rise too high, if any major setback will take place.
On the contrary, what may be expected, is a major Russian offensive besides other robust military measures in the near future, my estimate is from late November to late December. Russian Armed Forces, including the newly mobilized troops (over 300.000) have great ambition to prove their combat capability and superiority over troops of AFU.
Ukrainian losses in October have been again massive, over 12000 servicemen, over 900 tanks and armoured vehicles, over 30 MLRS, about 100 artillery pieces and nearly 300 drones. Russia's losses, besides giving up some areas, have been kept on the same level as earlier, approx. at 10-20% of those mentioned Ukrainian losses.
Wrap-up of news pieces
From American side
US General Milley, the chairman of the Joint Chiefs of Staff, has made the case in a recent internal official meeting that the AFU has achieved so much on the battlefield before the winter sets in, so they should try to cement their gains at the bargaining table. From American point of view, President Zelensky is a question mark, he may not accept American plans and, at the end of the day, may stay as the most problematic issue against any peace arrangements.
The US National Security Advisor Jake Sullivan's recent meetings with Ukrainian leaders, including President Vladimir Zelensky, in Kiev has created a lot of rumors and misperceptions. Some US officials said that Sullivan's real mission was to push Zelensky to negotiate with Moscow and urge that "Kyiv must show its willingness to end the war reasonably and peacefully."
The Washington Post reported last week that the Biden administration privately encouraged Ukrainian officials to show they are willing to engage in dialogue with Russia, in an acknowledgment of the growing frustration in the US and some of its allies at the cost and duration of the war. Apparently, the Ukrainians pushed back.
On the other hand, all indications are that the Biden Administration is preparing for the long haul in Ukraine. Stars and Stripes reported on Wednesday that a three-star general will lead a new Army headquarters in Germany called the Security Assistance Group Ukraine, or SAGU, that will include about 300 US service members responsible for coordinating security assistance for Ukraine.
The New York Times had reported last Friday that Lt. Gen. Antonio Aguto Jr. was a leading candidate for the new job. The SAGU will be based out of US Army Europe and Africa headquarters in Wiesbaden. This indicates that the US remains "committed to Ukraine for as long as it takes."
Above all, the Biden Administration is badly in need of a success story from Ukraine as the newly-elected Congress convenes in January with a likely Republican Party majority in the House of Representatives. Therefore, it seems probable that Sullivan would only have urged Zelensky to expedite the planned Ukrainian offensive on Kherson, which may be a decisive battle for the Crimea and control of the Black Sea/Azov Sea ports and of vital interest to the US and NATO for the encirclement of Russia.
No doubt, the Russians have been taking the Ukrainian offensive in Kherson seriously. In a stunning announcement in Moscow on Wednesday, Russian Defense Minister Sergey Shoigu ordered a troop pullout from the western side of the Dnieper River in the Kherson Region. The fact that the Kremlin is risking criticism from the Russian public opinion for ordering such a retreat underscores the gravity of the Ukrainian military threat and the imperative needs to strengthen the Russian defense line.
It seems that the retreat by the Russians has already brought political results. On November 11, the United States extended the license for all energy transactions with major Russian banks and the Central Bank for the third time since February. The US State Department said that Washington is waiting for signals of readiness for serious negotiations from Russia.
Turkish president Erdogan called Moscow's decision to withdraw troops from Kherson correct and positive and announced his intention to hold talks with Putin.
Sascha Glaeser is a Research Associate at Defense Priorities, focusing on US grand strategy, international security and transatlantic relations. In his recent article in The National Interest "End the Ukraine War Before It Ends in Disaster", he describesfour possible scenarios for how the war could develop.
Sascha Glaeser states that "By avoiding efforts to push for a ceasefire and a lasting settlement, the US is prolonging a conflict, where even the most optimistic scenario for Ukraine may still lead to unthinkable consequences."
Senior US officials privately admit they believe neither Ukraine nor Russia is capable of winning the war outright. However, the Biden administration has ruled out pushing Ukraine to negotiate an end to the conflict. Instead, Washington continues to funnel billions of dollars' worth of weapons, equipment, and aid to Ukraine despite not believing Kyiv can win the war—not exactly a sound geopolitical strategy.
Glaeser adds "While the United States is rightfully sympathetic to the Ukrainian cause, the reality is that Ukraine's fate does not fundamentally affect US security. Biden's recent comment that the war in Ukraine has raised the risk of nuclear armageddon to the highest point since the Cuban Missile Crisis should have set off alarm bells in Washington and prompted reflection on current US policy. Instead, Washington seems content to continue business as usual. Given the stakes, the American people deserve better from their elected officials."
From Russian side
Some analysts estimate that Russia's new plan, regarding Ukraine, will not make it through the winter, it will be exhausted. They see that Kyiv is running out of resources (both military and others) and money. The assistance from the West is not going to last forever. The retreat manoeuver of Russia from Kherson to take advantageous positions along the Dnieper switches the special operation to the purpose of Ukraine's exhaustion.
Ukraine's Minister of Economy Yulia Sviridenko went to Washington for negotiations. She said on Wednesday, November 9, that rolling blackouts due to Russia's strikes could lead to a larger contraction in GDP in 2022 than was previously forecast. According to Sviridenko, a decline of 39 percent is expected instead of 35 percent. If power outages continue over the next few weeks, GDP could fall even more, she said.
Sviridenko assured that the Ukrainian government was cutting expenses by reducing state employees and privatizing small state-owned enterprises. She tried to negotiate in the US for the supplies of electrical equipment, such as transformers, power generators and even LED light bulbs that could save electricity. US officials urged the Ukrainian government to carry out reforms to establish transparent economic rules. According to Ukrainian President Zelensky, Kyiv needs $38 billion to cover an expected budget deficit next year and another $17 billion to begin urgent infrastructure repairs.
It appears that the West is reluctant to fund Ukraine non-stop. The EU pledged to provide $9 billion in loans in 2022, but three billion will never be sent. The European Central Bank will stop the printing press in spring. Hungary refused to finance the aid package worth 18 billion for 2023. There will only be loans from the EU budget. The IMF promises an injection of $10 billion over the next two years. These are loans as well.
The US primarily supports Ukraine with arms supplies. In September, nearly all Republicans in the House of Representatives voted against a bill to allocate $12 billion for the Ukrainian budget. House Minority Leader Kevin McCarthy warned that Republicans would refuse to issue carte blanche to Ukraine should they take control of the House.
The underfunding of the Ukrainian economy will trigger hyperinflation in Ukraine. The national bank of Ukraine issued an additional 15 billion hryvnia in early September by buying government bonds, having thereby undermined the value of the national currency, the hryvnia. Since the beginning of the special operation, the bank issued 300 billion, which caused the exchange rate to go up to almost 50 hryvnia per dollar.
In September, the inflation rate in Ukraine rose to almost 25 percent. Given the high cost, it will be even more difficult for Kyiv to stay afloat, not to mention successful military operations.
Russia decided to pull back its troops from Kherson. Ukraine will now have to maintain the city, which automatically increases the country's budget spending. It is worthy of note that Ukraine's public debt today amounts to UAH 6,400 billion (of which nearly 80 percent accounts for external debt), whereas Ukraine's public debt to GDP makes over 100 percent. Debt servicing becomes more expensive due to the growth of the dollar.
In addition, the support for Ukrainian refugees has been declining throughout the EU. It is not ruled out that many will eventually decide to go back home. This will create additional pressure on the labor market, unemployment will rise.
Winter is near. Russia has more than enough resources to make it through the winter smoothly but Ukraine has no resources. Ukraine has only assistance from the West but this is not going to last forever either … and last but not least, Russia's partial mobilization forces are soon ready to start that Winter Offensive, which Russian people are waiting for.
Realism emerging, US-Russian intelligence chiefs discuss in Ankara
November 14, the Russian news outlet Kommersant reported on US-Russian negotiations in Ankara, the capital of Turkey. Negotiations were held between Director of the Foreign Intelligence Service Sergei Naryshkin and his US counterpart CIA director Bill Burns. This meeting has not been publicly announced before. The official sources have so far declined to provide details of the talks. It appears that both sides have requested the meeting. Other media articles on this topic: article in The Moscow Times, article in Pravda, and an earlier article in Politico.
Gen. Mark Milley, the chairman of the US Joint Chiefs of Staff, has made no secret of his stance. "When there's an opportunity to negotiate, when peace can be achieved, seize it," Milley declared in a public speech this week. Senior US officials have begun nudging Kyiv to start thinking about peace talks. The imminent onset of winter has prompted talk in Washington of a potential inflection point in the war, now in its ninth month.
The war in Ukraine has disclosed one very dangerous weakness in the western military defense system and military-industrial complex. Fact is that the West is running short of ammunition it can deliver to Ukraine. That is why the US is buying 100,000 rounds of 155mm artillery ammunition from South Korea but statements from South Korea and the US make clear that the deal, which has been in the works for months, has not yet been finalized. The purchase of such a large supply of artillery ammunition is highly sensitive for South Korea, especially given the recent missile launches and weapon tests conducted by North Korea.
However, to call 100,000 artillery rounds a "large supply" is a joke. It is less than what the Russian army expenses in just a couple of days. The West currently no longer has the industrial capacity to make the products that are needed in a long high intensity war. It could rebuild that capacity but that would require a huge amount of money and long-term commitments to buy significant amounts of such products. Without a steady resupply of huge amounts of ammunition, the Ukrainian army is done.
The Biden administration has now confirmed that CIA head Burns has met with Naryshkin but it is not telling about the content of the talks. According to "official version", Burns met with his Russian counterpart in Turkey on Monday to warn Russia against the use of nuclear weapons in Ukraine, a White House spokesman said, adding that Burns' meeting in Ankara was not in any way meant to negotiate or to discuss any settlement of the war in Ukraine. President Biden has insisted that Ukraine and not the US, will dictate if and when negotiations commence to end the war. In fact, Russia has not threatened to use nuclear weapons in Ukraine and there is militarily definitely no reason to do so. The US of course knows that and it is likely that Burns did not even mention this issue.
There are enough other problems. The electricity situation in Ukraine is getting worse as the weather gets colder. Some 40% to 50% of the 330-kilovolt network is down and more of it will fail. What the US needs is more time for Ukraine to repair damage and for the production and delivery of more weapons and ammunition. It needs a pause in the war. It may well hope for a kind of ceasefire during the winter. It is highly likely that Burns went to Ankara to talk mainly about that.
Sure, the Biden administration has no interest in ending the war. It is setting up a headquarter in Germany where a three-star general and his headquarter staff will direct the US efforts in its proxy war against Russia. The claim is that the new command will be responsible for management and control of supplies to Ukraine but that is unlikely to be true. The Pentagon puts a 3 Stars General and the staff of 300 in charge of war operations, not for supplying and auditing inventories. The deployment of new headquarter means that the US is planning and preparing for a very long and big war against Russia.
NATO General Secretary Jens Stoltenberg has said that a Russian victory in the conflict in Ukraine would be a defeat for NATO and that it cannot allow such an outcome. If you cannot allow something to happen that is already mostly assured you will have to do something very serious to prevent that outcome. NATO is not united enough to go to war. But the chances for a direct conflict are growing by the day. It will be left to US and some east European countries to send their own troops into Ukraine. The US public is not yet ready for such a step and it will take more time to get to that point. It is another reason why the US would like to pause the war for now.
But Russia is unlikely to fall for such a scam. A ceasefire would allow the Ukrainian military to regain some strength and to build up more defensive lines. After its partial mobilization (over 300.000) in September Russia will soon have the forces available that are necessary to breach the Ukrainian front lines and attack deep behind those lines. As soon as the ground freezes it will be ready to go. Any pause now would make a later move more difficult.
There will be no ceasefire now but the talks are good anyway. Both sides should do their best to keep them going. It will need time and many more talks to make the necessary concessions to end this conflict.