Great Power relations heating up, June 2023
General characteristics and trends
It may sound like a cliché but we are living in the midst of major changes in the world order right now, when political tectonics are moving globally towards a new equilibrium.
Ukraine warcontinues and particularly Ukraine's losses are increasing at a wild rate every day AFU is resuming its "counteroffensive", since June 4. The Big Picture of the Ukraine war is multidimensional, complicated, even confused but anyway destructive for Ukraine.
In mid-June, there appeared a possible chance for a kind of peace talks between Ukraine and Russia, when Ukrainian Defense Minister Oleksiy Reznikov said "Ukraine is ready for negotiations and a peace agreement, if Russia changes the previously declared goals of the special military operation." His statement came after Ukrainian President Volodymyr Zelensky visited Kherson on June 8th to be updated on the ongoing offensive in the Zaporozhye region: The Ukrainian offensive is not going well and Ukrainian army losses have been heavy.
The last time there were serious negotiations between the two sides, when former Israeli Prime Minister Naftali Bennett shuttled among Ukraine, Russia, Germany and France. He says he was close to working a quid pro quo, when his effort was undermined by the Biden administration, forcing Zelensky to call off any deal.
There has been rather credible speculation of possible "political union" of Ukraine and Poland in order to get Ukraine, in the quickest way, as a member of NATO and EU. At the same time, it would be possible to utilize the Polish military force with "minor escalation risk".
On the other hand, in last few days, there have emerged features referring to possible heavy military deployment of NATO troops in Ukraine, due to Ukrainian massive losses – both in troops and equipment.
Be it this or that way, one thing appears to be a fact: AFU losses are so massive that the present way and trend is absolutely not sustainable in the warfare. Some Big Change will take place in Ukraine war during this summer 2023.
Sino-American relations saw a short glimpse of possible thaw/détente in Blinken's Beijing visit but that moment faded away by Biden's latest crazy gaffe within next 24h.
Interesting new power formations and blocks are emerging in MENA region as well as in Asia and Africa. Worldwide trend seems to be that "development of two camps", from which I have been talking about in many of my previous articles, e.g. New World Order in the making, April 2, 2022 
The US – Russia relations
The war in Ukraine has left an indelible mark on the relations between Russia and the whole West including the US. Relationships are unlikely to ever recover as they were, so deeply are hatred and mistrust rooted in them. Open war between the parties is getting closer every day as the escalation seems to be accelerating and no one is talking about peace or seeking after peaceful solution.
Some "pundits" in the West are suggesting that there may be a way to negotiate an end to the war in Ukraine but they seem not to understand, what Russia is now likely to demand to secure such a deal. Obviously, Russia will insist on securing the rights to all territories east of the Dnieper River as well as Odessa, Nikolaev and Kherson regions so that the rest of Ukraine will be an inland "stump" country. Besides territorial terms, Russia may require "de-nazification" and de-militarization of stump Ukraine along with other military-technical terms regarding NATO installations and troops in the vicinity of Russian borders.
Until Ukraine suffers an irreversible defeat on the battlefield, there is little incentive for the US and its NATO allies to entertain any of the positions outlined above. What is worrying, is that the Biden Administration has pinned so much of its re-election strategy on a success in Ukraine that it may do something stupid and escalate by using US military personnel to pilot combat aircraft or tanks or Bradley fighting vehicles.
This would mean dead American military personnel in significant numbers in Ukraine and potentially generate political pressure in the US to expand the war. However, if Biden orders US military troops into battle in Ukraine without Congressional approval, it will ignite a political firestorm in America that will thwart his next Presidency.
The US and the whole West are failing to grasp the reality that Russia knows it is winning the war in Ukraine. While Russia is not suffering economic or political damage at home, the war has proven to be a boon for Russia's efforts to help create a new international financial/trade system that circumvents Washington's control. In other words, Russia has little incentive to entertain negotiations that would require Russian concessions.
Erosion of US credibility
In the aftermath of the Ukraine crisis, global support (by Global South) shifts towards Russia thus increasing the erosion of US credibility. In recent years, the international perception of the United States has undergone a significant transformation with more than half of the world's population now expressing support for Russia. This block represents nations with hard colonial occupation history by western powers still in their collective memory.
The conflict in Ukraine, which began in 2014, marked a turning point in global perceptions of US credibility. The United States, along with its European allies, accused Russia of annexing Crimea and supporting separatist movements in eastern Ukraine. However, as the conflict unfolded, the perceived involvement of the US in fomenting unrest and supporting a new government in Kiev raised doubts and worry among nations in Global South.
One of the key factors contributing to the erosion of US credibility is a series of questionable foreign policy decisions. The US invasion of Iraq in 2003, based on faulty intelligence regarding weapons of mass destruction, damaged its reputation as a trustworthy global power. Additionally, the prolonged military engagements in Afghanistan and the Middle East have strained US resources and created doubts about the effectiveness of its interventions.
Another element impacting US credibility is the perceived use of double standards in international affairs. Many nations accuse the United States of selectively championing democratic values and international law, when it aligns with its interests, while turning a blind eye to violations committed by its allies. This perception has further undermined the United States' credibility, especially in regions where it has historically been involved, such as the Middle East.
As US credibility diminishes, other global powers, most notably China and Russia, have seized the opportunity to fill the void. Economic partnerships, diplomatic initiatives and military cooperation with China and Russia have increased significantly, leading to a shift in global alliances and perceptions.
Russian roulette, played by the West
When western political elites started out supplying AFU, they were afraid of sending longer-range missiles or tanks as this was considered a provocation to Russia, which could have dire consequences. But today, all of these different stages have been surpassed, like a gambler at the blackjack table who's only rationale to recoup his losses is to take bigger chances with higher stakes and still, after over 120 billion dollars of US taxpayers' money not shifted the war one centimeter to Ukraine's benefit.
While the next NATO summit in July is approaching and Kiev faces more and more pressure to show some military success before that, the slaughtering will continue on the frontlines and the stakes are going up and up.
Josep Borrell, the EU's top diplomat, recently stated publicly that Ukraine would have lasted mere days had it only been a Moscow vs. Kiev conflict, which is the fact agreed with all prominent military and political experts on both sides of the Atlantic.
What happens after Kiev regime's much-touted counteroffensive fails? This is the question majority of western pundits refuse to reply. Unfortunately, it seems that the Doom's Day is also one possible scenario.
Besides the US territory, the US Forces are storing nuclear bombs (B61 nuclear gravity bombs) in Europe: Netherlands, Belgium, Germany, Italy and Turkey. In addition, certain nuclear arsenal, owned and controlled by the US Forces, is deployed in British submarines. Russia has tactical nuclear weapons located, besides Russian territory, in Belarus and Kaliningrad.
June 20, Russia has warned Ukraine against striking Crimea with NATO-supplied missiles. Russian Defence Minister Sergei Shoigu said Moscow had information about Kyiv's plans to strike areas that are not part of the "active zone of hostilities." Shoigu alleged Kyiv planned to strike Russian regions and Crimea with HIMARS and Storm Shadow Missiles. He warned Ukraine and the West of dire consequences, if such a plan is carried out.
June 16, 2023. President of Russia Vladimir Putin spoke at the plenary session of the St Petersburg International Economic Forum. He was asked again about Russia's nuclear strategy. Recently, Moscow began to deploy nuclear weapons in Belarus. Putin's answer brought no surprises. In summary: nuclear weapons remain in the toolbox of Moscow's strategy and there is the official Russian doctrine that stipulates conditions for their use. Should the existence of the Russian state be threatened, they will be used. However, there is no need to resort to such instruments currently.
Western massive deliveries of equipment like artillery systems, tanks and missiles, which Ukrainians hoped would turn the tide of the war, have failed to make any decisive impact. According to Putin, Russia has managed to almost triple its production of arms and munitions and is gathering momentum. Meanwhile, Ukraine's once-powerful defense industry has been all but destroyed.
Sanctions and attrition
After the failure of both Russia's and the West's initial moves to achieve a quick victory last year, both sides have settled for strategies of attrition. The US and its allies have banked on tightening economic sanctions on Russia, trying to orchestrate the political isolation of Moscow. The problem for the West is that this strategy has not been working. Russia has found ways not only to reduce the effect of Western restrictions but has used them to revive and stimulate domestic production.
Indeed, the sanctions have done what many considered impossible: they jolted the country's economy out of the well-trodden path of oil and gas dependency. Russians are re-learning to manufacture what they once could but no longer bothered with – passenger planes, trains, ships, and the like, not to speak of garments and furniture. The Russian government has set sights even higher, toward regaining the level of technological sovereignty that was abandoned in the wake of the Soviet Union's demise.
Strategic re-orientation
Political isolation from the West has weaned Moscow from its traditional fixation on Western Europe and North America and pushed it to discover the wider world of the dynamic non-Western nations. It is not just China and India and the rest of BRICS, but also the United Arab Emirates, Saudi Arabia, Iran and Turkey.
Last weekend in St. Petersburg, Putin shared the platform with the president of Algeria and received a peace mission of six African leaders. Next month, he is hosting a second Russia-Africa summit there. Since the beginning of the year, Foreign Minister Sergei Lavrov has made three trips to the continent, visiting a dozen nations in total.
Building support for the Greater Eurasian Partnership project could be seen as the flagship project of Russia's foreign policy, Foreign Minister Sergey Lavrov said some days ago.
"Our flagship foreign political project is to build support for the concept of the Greater Eurasian Partnership. What we're talking about is facilitating the objective process of forming a broad integrative configuration that is open for all countries and associations across our vast continent. Practical steps are already being made" Lavrov said.
These include the processes of interlinking the complementary development plans of the Eurasian Economic Union (EAEU) and China's Belt and Road Initiative, expanding interaction within the framework of the Shanghai Cooperation Organization (SCO) with the involvement of SCO observer states and dialogue partners, strengthening the strategic partnership between Russia and the Association of Southeast Asian Nations (ASEAN), and establishing working contacts among the executive bodies of the EAEU, SCO and ASEAN, the foreign minister noted.
The US – China relations
Current atmosphere between China and the US is very tense and the analysts are asking, how to avoid miscalculations and conflicts? Blinken's recent visit to China, June 18, might give some hints of chances. If the US does not hold back in indulging "Taiwan independence", the contacts between Chinese and American diplomats and defense officials will have no practical effect.
Antony Blinken arrived in Beijing on June 18 in what became his first visit to China in his current role and also the first US Secretary of State visit to Beijing since 2018. It took the Biden administration almost six months to put this visit back on the schedule as it was originally set for February.
According to the Monday schedule published by the US State Department, Blinken holds talks with China's Central Foreign Affairs Office Director Wang Yi on Monday morning, then participate in a roundtable with exchange program alumni in Beijing and a separate roundtable with US business leaders. He also plans to meet with employees and families of the US Mission China in Beijing.
Currently, China-US relations are at their lowest point since the establishment of diplomatic ties, which is contrary to the fundamental interests of the peoples of both countries and does not meet the aspirations of the international community," Chinese Foreign Minister Qin Gang said after a meeting with Blinken, adding that he is willing to visit Washington when it is mutually convenient.
The US media reported on Sunday that the ambiguity following the talks indicates little substantive progress on Blinken's agenda items, which include concerns over Taiwan, jailed US citizens in China and Beijing's stance on Russia's special military operation in Ukraine. Blinken and Qin Gang are said to be "inching toward an off-ramp from months of rancor" but Beijing maintains its "stern" stance on key issues.
Blinken had an extremely short meeting with President Xi, which had followed a series of lectures by other high ranking Chinese officials: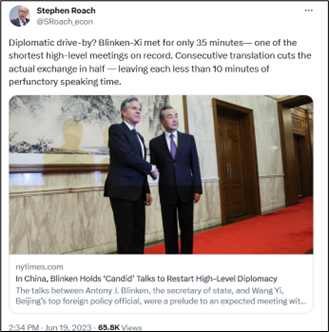 On Monday, June 19, Chinese President Xi Jinping said state-to-state interactions should always be based on mutual respect and sincerity. Hope this visit by Secretary Blinken could make positive contributions to stabilizing China-US relations.
What's next?
Though the meeting schedule was not long, it carried substantial information. President Xi expounded on the principled stance for stabilizing and developing China-US relations, providing strategic and guiding suggestions. He also emphasized that the world needs a generally stable China-US relationship. The three most commonly used adjectives by both sides for their high-level communication are "frank, in-depth and constructive."
Blinken told Xi during the meeting that the US side looks forward to having high-level engagements with the Chinese side, keeping open lines of communication, responsibly managing differences, and pursuing dialogue, exchanges and cooperation. Both Chinese and US Foreign Ministers told reaching agreement on four sectors including maintaining high-level contacts and advancing the China-US joint working group to address specific issues while expanding people-to-people and educational exchanges between the two countries.
Blinken likely sought to stabilize relations with Beijing because Washington has begun to feel pressure from China's withdrawal of support for the dollar and the enormous US government deficit. China is still the second largest creditor to the US and it has been getting rid of the US debt quite aggressively over the last two years. Now China and Russia are increasingly shifting to national currencies in their trade and that could lead to many other nations abandoning the dollar and triggering a huge financial crisis in the United States. If China continues to dump US treasuries, they could depress its price, push interest rates higher and trigger a selling stampede by other nations as well. This is one of the biggest risks that the United States is facing.
On the Taiwan question
China has no room for compromise or concession. The US side must truly adhere to the one-China principle set out in the three China-US joint communiqués, respect China's sovereignty and territorial integrity and clearly oppose "Taiwan independence," Wang told Blinken on Monday. "If the US continues selling weapons or increasing high-level interactions with DPP authorities in the island, where elections will take place next year, we'll surely take countermeasures, which will not only make the situation in the Taiwan Straits unstable but also heavily affect China-US relations," he said. 
 
Blinken went to Beijing, hat in hand, and received a "frosty" welcome. Blinken and his Chinese hosts engaged in a one-sided "frank exchange of views" (i.e., a phrase used by diplomats to describe a tense, angry conversation). The Chinese delivered and Blinken ended up saying what the Chinese demanded he say — "the US does not support Taiwan Independence." Blinken simply restated the One China Policy negotiated and implemented by Richard Nixon and Henry Kissinger 51 years ago. What Blinken said has been the cornerstone of US policy towards China for decades.
Blinken raised eyebrows on Monday, telling reporters the US does not support Taiwan independence after meeting in Beijing. Many Republicans in Congress, who viewed the statement and the secretary's inability to re-establish military-to-military communications as an inappropriate "kowtow" to America's greatest adversary. "Blinken flew to Communist China to appease Xi Jinping and state the Biden administration does not support Taiwan's independence," Sen. Marsha Blackburn (R-Tenn.) said on Twitter. "Why won't this administration stand up to bullies and stand for freedom?"
Wang Yi asked the US side to stop hyping up the "China threat theory", lift illegal unilateral sanctions against China, stop suppressing China's technological development, and refrain from interfering in China's internal affairs.
Wang Yi focused on analyzing the essence of the Taiwan issue, emphasizing that safeguarding national unity will always be the core of China's core interests, it is the fate of all Chinese people, and it is the historical mission of the Communist Party of China. On this issue, China has no room for compromise. The US side must truly adhere to the one-China principle set out in the three Sino-US joint communiqués, respect China's sovereignty and territorial integrity and clearly oppose "Taiwan independence".
It is a very typical Chinese ultimatum. China left Blinken with two choices — reaffirm the One China Policy or prepare for a rupture in relations. The Chinese are in no rush to let the Biden Administration off the hook. Their refusal to re-establish military – to – military communications signaled China's intention to wait and see if Blinken and the rest of the Biden national security team cool their rhetoric and embrace the One China Policy.
Biden and Blinken have painted themselves into an inescapable place and anything they do to reverse course will be attacked as weakness and cowardice by many American politicians and citizens. Things are likely to heat up in the coming weeks and Biden will face growing pressure to throw Blinken under the bus. The Wall Street journal, citing current and former U.S. officials, reports: China and Cuba are in talks to set up a joint military training center on the island, which means the Chinese military could be on America's doorstep.
The US alleged outrage over this move by China conveniently ignores the fact that the US provoked this by sending US military trainers to Taiwan: The US government has sent around 200 soldiers to Taiwan to provide military training amid increasing tensions with China, according to a report by Taiwan News. The choice America faces is stark and simple — accept the One China Policy or prepare for a war with China.
Many western analysts are combining two conflict cases Taiwan and Ukraine. A general reasoning has been: What happens in Ukraine will not stay in Ukraine. That is the essence of an argument for why the US and other western nations must support Kyiv in resisting Russian aggression. As Washington Post columnist Marc Theissen argued, "Failure to save Ukraine would decimate our credibility in defense of Taiwan, thus making war more likely." Taiwan's representatives are also stating, "Ukraine's survival is Taiwan's survival. Ukraine's success is Taiwan's success. Our futures are closely linked."  More about this subject in my article:  Ukraine and Taiwan on Brzezinski's Grand Chessboard, July 13, 2022; Taiwan case, updated Big Picture, August 23, 2022.
The 15th Straits Forum
The 15th Straits Forum was held on June 16-17 in Xiamen, East China's Fujian Province. It has been widely noted that more than 5,000 Taiwan attendees came upon invitation. This is the biggest cross-Straits people-to-people exchange event since the outbreak of the covid-pandemic. Among the Taiwan attendees are representatives from several major political parties on the island, except Taiwan's Democratic Progressive Party (DPP), as well as representatives from various industries, community leaders and people from trade unions, representing a wide range of people. The desire of people on both sides of the Straits to communicate and seek peace can be seen by the scale of the Straits Forum.
Since its inauguration in 2009, the Straits Forum has been held every year despite facing all kinds of difficulties. This year's forum not only continues the orientation of being nongovernmental, grassroots and extensive but also shows two new trends: the forum is becoming younger and more "first-time visitors."  Despite the general, tense atmosphere between the two sides of the Straits, the peaceful sentiment was being echoed at the Straits Forum, where compatriots from both sides greet each other and seek mutual understanding, ultimately presenting a shared desire for development and peace across the Straits.
Russia – China relations
The power dynamic in Northeast Asia is undergoing a dramatic change against the backdrop of the "no limits" strategic partnership between China and Russia. The collapse of Kiev's counteroffensive" and defeat in the war with Russia may compel Biden administration to put "boots on the ground" in western Ukraine, triggering a global confrontation, and, equally, the US-China relations are at their lowest point since their normalization in the 1970s, while Taiwan issue may potentially turn into a "casus belli" of war.
The Northeast Asian theatre is going to be a crucial arena in the brewing big-power confrontation while the Arctic region is hotting up and the Northern Sea Route becoming operational. All these changes will catapult the strategic importance of the Russian Far East and Siberia as the powerhouse of the world economy in the 21st century combining its economic status with the world's number one and two nuclear powers (Russia & China).
The outcome of the Ukraine war might be the last chance for the United States to rein in Russia from emerging as a peer competitor. That is what makes the Far East the most consequential region for the US in its global strategy.
Symptomatic of the cascading tensions, Russian foreign ministry summoned the Japanese ambassador on mid-June and protested in extraordinarily harsh language, as it came to be known that the 100 vehicles that Tokyo promised a week ago to Ukraine, would in reality be armoured, all-terrain vehicles. Japan's export rules ban its companies from selling lethal items overseas! Tokyo is crossing a "red line" and Moscow is angry. The Russian foreign ministry "stressed that the administration of Prime Minister Fumio Kishida is driving bilateral relations even deeper into a dangerous impasse. Such actions cannot remain without serious consequences."
Significantly, at the same time, in a meeting, General Liu Zhenli, Chief of Staff of China's Central Military Commission and the Chief of the General Staff of Russian Armed Forces General Valery Gerasimov expressed confidence in the expansion of military cooperation between the two countries and noted, "Coordination between Russia and the People's Republic of China in the international arena has a stabilizing effect on the world situation."
The Chinese media later reported that the two generals agreed that Russia will participate (for the second time) in the Northern/Interaction-2023 exercise organized by China, signaling a new framework of China-Russia joint strategic exercises alongside the joint air patrol over the Sea of Japan and the East China Sea by their strategic bombers. It is important to recall China's State Councillor and Defence Minister Li Shangfu visited in Moscow, April 17, and met his Russian colleague Shoigu as well as President Putin.
In March 2023, when China's President Xi visited Moscow, he told his Russian counterpart that the scope of the changes taking place in today's world is such that has not been for 100 years. The pace and the scope of these changes are visible shift towards a multipolar world. For Russia and China, otherwise seen as two so-called "revisionist" powers in Washington – the best response is to solidify their alliance against the combined counter-forces i.e., the US-led West, resisting this change.
This response saw its recent expansion through multiple economic pacts on trade cooperation. After signing these pacts in Beijing, Russian Prime Minister Mikhail Mishustin said that these pacts "are characterized by mutual respect of each other's interests and the desire to jointly respond to challenges". These pacts hold considerable importance in economic sphere, downplay openly Western sanctions but their timing also holds crucial importance, as these pacts came immediately after the G-7 summit held in Japan.
More of the recent meeting in my previous article:
Putin and Xi – allies in the spirit of multipolarity, March 26, 2023.
Other recent articles regarding Russia-China relations and cooperation:
New currency system, BRICS and SCO, January 12, 2023; Samarkand calling, September 20, 2022.
Triangle Game – double defeat and camp formations
Two defeats by the West
Some prominent analysts talk about "double defeat", when explaining those setbacks, the US is facing in its foreign policy. One of the best analysis of US foreign policies is by Alexander Mercouris at The Duran. It's headlined "China war party vs. Russia war party" on June 17th, and it documents that President Biden and his team at the White House are fantasists, who simply refuse to accept the reality that America cannot win simultaneously wars against both Russia and China. Biden's neocon State Department demands conquering Russia, while Biden's neocon Defense Department demands conquering China.
China war party vs. Russia war party
by The Duran June 17, 2023
The first defeat by the US (incl. EU & NATO)
During the last couple of years, the US has pursued more or less purposefully two-front war, in relations with China and Russia. Both countries have been targets of US heavy containment policy.
Now, in June 2023, it seems that the US is going to admit defeat in war both on Russia and China. Confronted with the realities of life, the Biden administration has in the last days acknowledged defeat in two on its most delusional foreign policy games.
The Ukrainian counter-offensive has been a big failure with massive AFU losses. Its army is getting slaughtered on the battlefield. The "counteroffensive" of the NATO trained Ukrainian brigades has made no real progress on any front. The high level of losses of men and material make it impossible that it will ever again regain the initiative.
The US aim was to integrate the Ukraine into NATO, where the US could station American troops and put its weapons into reach of Moscow so that any independent Russian move could be countered with a threat of imminent annihilation. After more than 20 years of pursuing that aim the Biden administration threw the towel.
President Biden, on June 17, said he won't make it easier for Ukraine to join NATO, adding that the country at war with Russia has to meet all the requirements to be a member. "They got to meet the same standards. So, I'm not going to make it easier," Biden told reporters. That is a big change. Biden has reportedly previously expressed that he is open to removing the Member Action Plan hurdle for Ukraine to join NATO, which requires countries that want to join the alliance make reforms militarily and democratically.
As such, Biden has not said anything new. Biden senses that the US has lost the proxy war but he must not and cannot admit it. Biden simply walked back to the default position of the 2008 NATO Summit at Bucharest welcoming Ukraine into the alliance via the MAP route.
The European Union gave Ukraine a similar negative outlook, although packaged in polite words. EU report on Ukraine's membership bid states that Kiev has so far met two of the seven conditions required to start formal EU accession negotiations. The much-hyped counteroffensive has indeed become a death trap for the US, EU and NATO.
The second defeat by the US
The other US defeat was acknowledged by US Secretary of State Anthony Blinken at the end of his trip to Bejing. The US will not support Taiwan breaking away from China, Blinken has said, amid a series of confusing statements by Joe Biden on the issue. "We do not support Taiwan independence," America's top diplomat said in Beijing after meeting with Chinese president Xi Jinping.
This was more than a verbal change in Blinken's pronouncements. US State Department has updated its fact sheet on Taiwan again to reinstate a line about not supporting formal independence for Taiwan. "We oppose any unilateral changes to the status quo from either side; we do not support Taiwan independence; and we expect cross-Strait differences to be resolved by peaceful means," according to the document, referring to the strait separating the island from the Asian mainland.
Sino-American relations saw a short glimpse of possible thaw/détente in Blinken's Beijing visit but that moment faded away quickly by Biden's latest gaffe within next 24h. Biden called President Xi as a dictator in his public speech, sparking outrage among Chinese officials.
Wang Yi demanded that the US stop playing up the so-called "China threat", lift illegal unilateral sanctions against China, stop suppressing China's scientific and technological advances and do not recklessly interfere in China's internal affairs. He stressed that safeguarding national unity has always been the core of China's core interests. It is where the future of the Chinese nation lies and the abiding historical mission of the CPC. On the Taiwan question, China has no room for compromise or concession, Wang said.
The next step for China is to stop the provocative "innocent passage drive-bys" by US military ships and airplanes ("freedom of navigation operations") in the Taiwan Straits. To do that it simply has to apply the United Nations Convention on the Law of the Sea: Article 38 Right of transit passage:
In straits referred to in article 37, all ships and aircraft enjoy the right of transit passage, which shall not be impeded; except that, if the strait is formed by an island of a State bordering the strait and its mainland, transit passage shall not apply if there exists seaward of the island a route through the high seas or through an exclusive economic zone of similar convenience with respect to navigational and hydrographical characteristics.
A view on a map shows that this evidently applies to the strait between mainland China and the Chinese island named Taiwan. If the US really has a One China policy it will have to accept that the Strait is off limits.
Double defeat and the end of unipolarity
The American double defeat versus Russia and China, will take some time to stick.
In the Ukraine conflict there are still dreams of creating some kind of stalemate, of implementing some kind of a Korean cease-fire demarcation line on the 38th parallel. The US officials are planning for the growing possibility that the Russia-Ukraine war will turn into a frozen conflict that lasts many years — perhaps decades — and joins the ranks of similar lengthy face-offs in the Korean peninsula, South Asia and beyond. The discussions have taken place across various US agencies and in the White House.
The options discussed within the Biden administration for a long-term "freeze" are based on illusory assumptions. Ukraine is running out of critical weapons, such as artillery, tanks and fixed wing aircraft and these losses are accelerating. Kiev has no good prospects for replacing them. Ukraine also is running out of trained manpower. How does one continue to pursue a stagnant war, when the very things you require to conduct and sustain such a war are in short supply and becoming scarcer?
Russia does not want to have any of that. It will thoroughly defeat the Ukrainian army. It will retake the parts of Ukraine which for centuries had been Russian before the communists assigned those administratively to the Ukrainian Soviet Socialist Republic.
The rest of a then neutral Ukraine, cut off from the sea and the mineral riches of the east, will be handed over to the underling that Russia is willing to accept.
The double defeat also marks the end of the Wolfowitz doctrine:
The doctrine announces the US's status as the world's only remaining superpower following the collapse of the Soviet Union at the end of the Cold War and proclaims its main objective to be retaining that status. The first US objective is to prevent the re-emergence of a new rival, either on the territory of the former Soviet Union or elsewhere, that poses a threat. The end of "unilateral moment" is there for anyone to see.
Big Picture in Asia
The big picture is that the shift in Japanese policies through the past year — close alignment with the US regarding Ukraine; copying the West's sanctions against Russia; supply of lethal weaponry to Ukraine, etc. — has seriously damaged the Russo-Japanese relationship. On top of it, Japan's re-militarization with American support and its growing ties with the NATO (which is lurching toward the Asia-Pacific) makes Tokyo a common adversary of both Moscow and Beijing. 
Russia and China are convinced that Japan is acting like a surrogate of American dominance in Asia and is subserving western interests. On its part, Washington now actively encourages Japan to be an assertive regional power by loosening its constitutional limits to rearmament. It pleases Washington that Japan pledged a long-term increase of over 60 percent in defense spending.
What worries Moscow and Beijing is also the current rising of revanchist elements — vestiges of Japan's imperial era — in the top echelons of Japanese power hierarchy. This trend bears striking similarity to what is happening in Germany, where too some pro-Nazi elements are claiming rehabilitation. Curiously, a German-Japanese axis is present at the core of Washington's strategies against Russia and China in Eurasia and Northeast Asia. The German Bundeswehr is expanding its combat exercises in the Indian and Pacific Oceans and will deploy more naval and air force units to the Asia-Pacific region next year.
A recent German report noted, "The intensification of German participation in Asian-Pacific regional manoeuvres is taking place at a time when the United States is carrying out record-breaking operations in Southeast Asia, in its attempts to intensify its control over the region and displace China as much as possible."
Apart from Japanese revanchism, which fuels the nationalist sentiments, Tokyo is convinced that a settlement with Russia over Kuril Islands is not to be expected now, or possibly ever, which means that a peace treaty will not be possible to bring the WWII hostilities to an end formally. Secondly, Japan no longer visualizes Russia to be a "balancer" in its troubled relationship with China. While Japan sees the rise of China as a political and economic threat, it is rapidly militarizing, which in turn creates its own dynamic in terms of both upending its power position in Asia as also integrating itself with the West.
Prime Minister Kishida is enthusiastic to integrate Japan into the US-led collective West. On the same day that President Xi Jinping visited Moscow in March, Kishida landed in Kiev from where he went to attend a NATO Summit and openly began lobbying for establishment of a NATO office in Tokyo. Kishida followed up by hosting NATO Secretary-General Jens Stoltenberg in Tokyo and giving him a platform to tell off China publicly from its doorstep.
Northeast Asia is a priority now for China and Russia, given their overlapping interests in the region. According to Chinese military analysts, the Russian-Chinese military ties "serve as a powerful counterbalance to NATO expansion to Asia and the sharp rise in the US force projection there". It is conceivable that at some point in a near future, China and Russia may begin to view North Korea as a key player in their regional alignment. Indeed, if that will happen, a host of possibilities will arise. The Russian-Iranian military ties set the precedent. 
Epilogue
A very interesting tweet emerged recently, June 26, 2023 seen here below: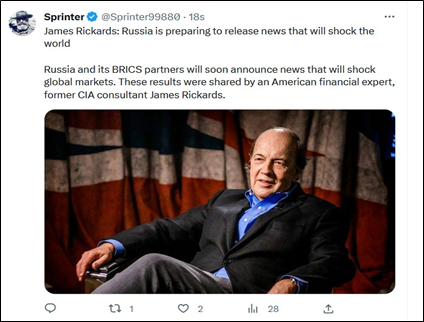 I also refer to my previous articles of this subject:
New currency system, BRICS and SCO, January 12, 2023
New World Order in the making, April 2, 2022
Cyclical transformation turning into doomsday, March 21, 2022
World order and polarity transforming 2022, February 28, 2022