Hot Spots of Ukraine crisis
news regarding the key hot spots in Ukraine crisis
Global Research July 16, 2023, by Jacques Baud
Jacques Baud is a former colonel of the General Staff, ex-member of the Swiss strategic intelligence, specialist on Eastern countries. He was trained in the American and British intelligence services. He has served as Policy Chief for United Nations Peace Operations. As a UN expert on rule of law and security institutions, he designed and led the first multidimensional UN intelligence unit in the Sudan. He has worked for the African Union and was for 5 years responsible for the fight, at NATO, against the proliferation of small arms. He was involved in discussions with the highest Russian military and intelligence officials just after the fall of the USSR. Within NATO, he followed the 2014 Ukrainian crisis and later participated in programs to assist the Ukraine. He is the author of several books on intelligence, war and terrorism, in particular Le Détournement published by SIGEST, Gouverner par les fake news , L'affaire Navalny . His latest book is Poutine, maître du jeu? published by Max Milo.
VT Veterans Today, By VT Editors April 6, 2022
Our sources on the ground report that the last two helicopters trying to evacuate foreign VIPs from Mariupol were shot down this morning. They were sent on a suicide mission to collect Lt.General Coultier, who was, we are told, hiding in a huge industrial complex with some Special Forces staffers and about 30 Ukrainian Army, not Azov, soldiers.
VT Veterans Today, By VT Editors , April 11, 2022
What is in that steel mill that NATO and the Ukrainian government would warrant three very high risk attempts to extract? Since the out-break of the police action by Russia in Ukraine some very unusual occurrences have been happening. The current report through Colonel Cassad says there is a secret NATO base under the steel works in Mariupol. Sources are now openly admitting a biological weapons manufacturing facility there.
The Saker, April 12, 2022
A lot of very big scoops and important updates today. The biggest news of this cycle is that yesterday was one of the single worst days of the conflict so far for the UAF: in a single day, the UAF lost over 1,100 people total as killed, wounded, or captured.
The most interesting bit of info though, is that we have the first confirmation of foreign mercenaries captured amongst the surrendered in Mariupol. 'Famous' British mercenary Cossackgundi, real name Aiden Aslin, who fought for the YPG for years in Syria, had his phone call intercepted where he cried about the likelihood of being 'used for propaganda' once he's captured.
More info of a British mercenary surrendered in Mariupol
British volunteer fighter captured by Russian troops in Ukraine
British mercenary surrendered near Mariupol
By VT Editors , April 15, 2022
The data of the captured military personnel of the Alliance countries will be published during the trials, said Andrey Klimov, deputy head of the United Russia commission for international cooperation. Representatives of NATO countries surrendered during a special operation to demilitarize Ukraine.
Russia's Ukraine operation has no deadline
Posted on April 13, 2022 by M. K. BHADRAKUMAR
Fall is imminent of Azovstal iron and steel works, the last hideout of Ukrainian solders in Mariupol, where thousands of Ukrainian soldiers and NATO officers are trapped, including some hundreds of military officers from the NATO countries and surprisingly, from Sweden. According to Western media reports, elite British and US special forces units are deployed in Ukraine, including servicemen of the British Special Air Service (SAS) and soldiers of the First Operational Unit of Special Forces "Delta" of the US Army. The operations in Mariupol were under the command of an American Army Maj.Gen. Roger L Cloutier, who attempted to escape by helicopter sent to rescue him a week ago but was intercepted by the Donetsk militia involved in the operation alongside the Russian forces, and was taken into their custody.
Russian troops prepared assault groups of flamethrowers to clean up Azovstal (updated)
By VT Editors April 16, 2022
In the units of the Armed Forces of the DPR and Russia, assault groups of flamethrowers were trained to clean up and eliminate Ukrainian Nazis at the Azovstal plant. This was reported today in the Department of the People's Militia of the DPR. According to military correspondent Sladkov, "Azov" rats from the dungeons of "Azovstal" will be smoked out not with chemicals, but with flamethrowing systems. Well, no doubt, in the closed space of industrial catacombs – this weapon is extremely effective.
The Saker April 16, 2022
Let's start off with some significant Mariupol updates. The Primorski / port area was further captured, some say dividing it in half, and guys on the ground are now saying the entire section may fall by tomorrow or at latest by the end of this weekend. That would leave only the Azovstal factory because the other big news was that the Illych factory has completely fallen to our forces as well, and this was the only other pocket of UAF left. There is a lot of footage from the Illych capture.
Russian Defense Ministry Appealed To Ukrainian Fighters At Azovstal, Warned About Upcoming Provocation In Odessa
Southfront 19.04.2022
On April 19, the Interdepartmental Coordination Headquarters of the Russian Federation for Humanitarian Response in Ukraine released another urgent statement warning of the upcoming bloody provocation in the Odessa region and addressing the Ukrainian nationalists besieged at the Azovstal plant in Mariupol, giving them another chance to surrender.
April 24, 2022
The current military situation is presented in this article, also some interesting pieces of news from Mariupol. Yesterday, the Russian Naval Infantry / Marines detachment from Mariupol had begun to redeploy and were visible driving on the road north of Mariupol. Canadian media reports that the "former" commander of the army, Lieutenant General Trevor Cadier, is in Ukraine and he has been absent since February, according to speculations he is "there" in Azovstal. More captured or dead military persons from UK, America and France has been found. A Turkish newspaper is claiming Macron abandoned over 50 French officers who are trapped in Azovstal. In Mariupol, the latest footage confirms northern part of Cement plant & landfill is under Russian/DPR control following the advances along with Russian troops during the last days. The area left, controlled by Ukrainian troops, within the city is about 10%. Russian forces have continued to pummel the plant, hitting it with air strikes, including by long-range aircraft. The AFR and the DPR declared a humanitarian corridor on April 25, 2022 unilaterally from the Azovstal metallurgical plant for the evacuation of civilians.
Will Azovstal Plant Azov fighters withhold Mariupol civilians from the UN and RedCross?
By Jim W. Dean, Managing Editor April 30, 2022
The news came amid United Nations-backed efforts to broker a ceasefire to allow hundreds of trapped civilians and Ukrainian fighters escape the factory, the last bastion of resistance in the besieged city of Mariupol. Nationalists are now demanding evacuation
80 Civilians Evacuated From Azovstal In Mariupol (Videos)
Southfront 02.05.2022
So far, 80 civilians, including women and children, who were held hostage by Ukrainian nationalists, have been evacuated from the territory of the Azovstal plant in Mariupol.
Om May 1, another humanitarian corridor for the safe evacuation of civilians was provided by units of the Russian Armed Forces and the People's Militia of the Donetsk People's Republic. Representatives of the UN and the Red Cross were also involved in the operation.
Alex Christoforou: Canadian General in Azovstal? Russian media warns UK
By VT Editors May 3, 2022
War Realities, Top Gun Romantics, Mercenaries, the reality of a wall socket.
May 03, 2022
http://thesaker.is/war-realities-top-gun-romantics-mercenaries-the-reality-of-a-wall-socket/
Latest info about secrets of Azovstal: Canadian General and secret biolabs
What can the Imprisoned Canadian General Tell?
05.05.2022 Author: Vladimir Platov
https://journal-neo.org/2022/05/05/what-can-the-imprisoned-canadian-general-tell/
The arrest of Canadian general Trevor John Cadieu on May 1 by Russian troops while trying to escape from Azovstal in Mariupol can serve as a piece of evidence that official evidence of the "collective West" has unleashed a war against Russia in Ukraine. Seven months ago he was considered a prime candidate for the position of the Canadian Army commander and had already become "famous" for a sex scandal among his fellow officers.
It is alleged that it was for the "evacuation" of the Canadian general that the Kiev authorities and the West came up with the whole idea of humanitarian corridors for civilians from Azovstal, involving French President Macron and his Turkish counterpart Erdogan, as well as the UN Secretary-General. The idea was that under the guise of "refugees" he, with a number of other senior NATO officials remaining there, could leave the Russian-controlled war zone in Donbass and avoid not only shameful captivity, but also a show trial by Moscow. It is noticeable that, according to reports circulating, General Cadieu was in charge of Azovstal's underground bunkers, including biological laboratory No. 1, where 18 people worked with deadly viruses.
He will therefore clearly have something to tell not only to the investigators in Moscow, but also at the open trial, where, by analogy with the Nuremberg Trials, there will certainly be strong charges brought against the US and its Western cronies for unleashing war in Ukraine, strengthening and protecting Nazi criminals in that country for this purpose, creating biological weapons in US secret laboratories in Ukraine, testing them on Ukrainian citizens in violation of all rules of international law.
Although, of course, these facts are no secret to anyone today. After all, the US claims to be a "democracy" for no reason, having long ago transformed itself from a republican to an imperial power, as the US media openly point out today. Americans have already paid dearly for this, but an even heavier moral reckoning lies ahead. After all, Biden and his administration are doing what they please in Ukraine, not only blatantly boosting the wealth of their families at Ukraine's expense, but also plundering the country, burdening it with US and international financial debts that will take decades to be paid off by the Ukrainian people. US officials are increasingly determined to cast aside international doubts about US direct involvement in the military conflict with Russia, they are expanding the supply of lethal weapons to the current Kiev authorities, and are doing so without hiding.
Two weeks after the conflict had begun, President Joe Biden assured that "a direct confrontation between NATO and Russia is World War III. And something we must strive to prevent."
But he seems to have lied to everyone once again. In particular, the US President has repeatedly spoken out in favor of regime change in Russia. Now Pentagon chief Austin, no longer even trying to hide behind an emotional outburst, is bluntly stating that the administration's aim is to "weaken" Russia. Isn't this an actual declaration of Moscow as an enemy and the beginning of war against it? And a direct reason for Russia to retaliate?
Americans trained in combat, along with thousands of other foreigners, are taking part in hostilities in Ukraine on Kiev's side, Politico reported. In particular, Task Force Yankee, led by American Harrison Josephowitz, is operating in Ukraine. The US is training soldiers from Ukraine in Germany to further fight Russia, German TV channel Das Erste reported. A militant resolution on the use of US forces in Ukraine has already been drafted by Republican member of the House of Representatives Adam Kinzinger.
Radio-Canada, citing documents and photos, reported in late April that Canada in Ukraine was training members of the Nazi Azov regiment (whose fighters are under criminal investigation in Russia) in military operations against Russia. However, probably "out of modesty" they did not name the role of the Canadian general Trevor Cadieu taken prisoner in such direct involvement of his country in the armed confrontation with Russia, but he will tell everything himself now…
The French Le Figaro and many other Western media outlets report on NATO's involvement in the fighting against Russian forces in Ukraine. NATO Secretary General Jens Stoltenberg publicly boasted on April 28 that the alliance countries had already provided or promised to provide a total of $8 billion in military aid to Ukraine!
Almost every day recently there have been reports of Western soldiers dying in Ukraine. For example, the newspaper Jyllands-Posten and the Danish Foreign Ministry report announcing that a 25-year-old Danish soldier who had acted for the Ukrainian forces died in Nikolayev under artillery fire from the Russian Armed Forces at the end of April. Or the mother of 22-year-old American Willie Joseph Cancel claims his death. And Americans Manus McCaffrey and Paul Gray, who were about to "shoot Russian tanks with Javelin systems" near the town of Orekhovo, recount their injuries and captivity.
After the Russian Aerospace Forces had bombed an AFU training base near Lviv in late February, a Norwegian national, Sandra Andersen Eira, a former prominent Norwegian politician and former member of the Sámi Parliament of Norway, as well as several other Norwegian female soldiers went missing from a roll call list found in the personal computer of Vitaly Kim, governor of Nikolayev Region. The role of NATO leaders in unleashing the war in Ukraine is candidly described by British mercenaries who surrendered to the Russian army in Mariupol, Sean Pinner, Andrew Hill, 27-year-old Aiden Eslin and many others.
Nor would it be an obvious revelation from the Canadian general Trevor Cadieu taken prisoner to tell us why, under pressure from Kiev, the besieged militants were forbidden to have a dialogue about surrendering at Azovstal and ordered the nationalists of the Azov battalion to immediately shoot anyone willing to lay down arms. The secrets shrouding this industrial facility and the "skeletons in the closet" lurking in its underground shelters have already been revealed in an investigation by Palestinian journalist and writer Nabil Salem: "All this is happening against the background of reports about the existence of a special room under the mill, which houses the secret headquarters of the North Atlantic Alliance with the number pit_40 for the production of biological weapons.
In addition to a number of NATO officers, 240 foreign researchers of various nationalities – from the United States, Germany, Canada, Italy, Spain, Turkey, Sweden, Austria, Poland, Greece, as well as soldiers of the French Legion – are stationed there. It has emerged that this secret headquarters is run by Metabiota company of Hunter Biden, son of US President Joe Biden, and his partner, Ukrainian President Volodymyr Zelenski."
Although perhaps, given General Trevor Cadieu's direct involvement in US biological laboratories in Ukraine, he may be able to add something to the UK-based The Exposé's investigation into the direct criminal involvement of the US and Ukraine in the emergence of the COVID-19 pandemic…
Although, given the recent information from refugees from Azovstal about the close coordination of "a certain general from the combine's bunker personally with the Ukrainian president", it cannot be ruled out that Trevor Cadieu could shed further light on Zelensky's "merits", for which Britain has already granted him its citizenship, as well as overseeing his billion-dollar foreign bank account, which appeared recently.
Vladimir Platov, expert on the Middle East, exclusively for the online magazine "New Eastern Outlook".
Fighting In Azovstal Continues. Ukrainian Militants Beg For Evacuation (Videos, Photos)
SouthFront 10.05.2022
On May 9, shelling on the Azovstal facilities continued in the city of Mariupol. After humanitarian corridors in Mariupol were closed, the artillery of the DPR People's Militia, supported by the Russian Aerospace Forces (VKS), are destroying the fortified areas of nationalist militants in Azovstal.
More than 1,000 Ukrainian soldiers are currently at the Azovstal plant, hundreds of them are wounded. The deputy commander of the Azov regiment Svyatoslav Palamar (nickname Kalina) recently gave an interview to the BBC, that Ukrainian forces are suffering significant losses, counted in thousands of servicemen. The Azov militants reportedly have about 600 wounded. Many of the injured are dying due to the lack of medicines. Palamar also accused the Ukrainian command that it actually left the militants at Azovstal dying.
Mariupol Liberated… Western Media Silence Amid Their Big Lie Exposure
Strategic Culture Foundation, May 13, 2022
For anyone who has been seriously following the conflict in Ukraine it is obvious that Western governments and media have been a total travesty in what they are claiming about that country. The Western news media were made to look like laughing stocks this week with the evacuation of civilians from the Azovstal steel plant in Mariupol, the Black Sea port city in southern Ukraine.
Sitrep Operation Z: Many Rumors and not enough Facts
The Saker, May 16, 2022
Fact: Nine Ukrainian soldiers who left the territory of the blocked Azovstal plant in Mariupol represented the interests of a larger group and asked for negotiations, said Alexander Khodakovsky, founder of the Vostok Battalion (DPR). "Now a lively stage of negotiations is underway. It was just the first group leaving. As it turned out, the group left, representing the interests of a larger group that continues to be at Azovstal.
1,000 Azovstal Fighters Have Surrendered Since Monday, But Top Commanders Remain: Kremlin
ZeroHedge by Tyler Durden, Wednesday, May 18, 2022 – 05:45 PM
According to fresh statements from Russia's defense ministry Wednesday nearly 700 more Ukrainian fighters have surrendered at Mariupol's Azovstal steelworks plant since the initial Tuesday reports that 300 had laid down their arms, with the wounded transferred to a Russian-controlled hospital. This would bring the total number to almost 1,000 fighters surrendered, according to the Russian statements. Regional media has reported, however, that the Ukrainian Azov battalion's top commanders have yet to come out of the large Azovstal plant.
Sitrep Operation Z: NATO surrenders in Azovstal
The Saker, May 18, 2022
Nightfall did not stop the surrender process. Ukrainians are still surrendering in crowds without stopping. Sufficient forces to deal with this are on the terrain and the Ministry of Internal Affairs of the DPR are kicking ass and taking prisoners.
The Azovstal Fortress Is Falling
SouthFront, 17.05.2022
On May 16, the main "fortress of the Ukrainian Resistance" fell. Ukrainian militants blockaded at the Azovstal plant in the city of Mariupol raised the white flag and asked for evacuation of the wounded. As a result of the Russian shelling, the members of the Ukrainian nationalist Azov regiment were recently cut off from a water source on the territory of the facility.
NATO Officers in Azovstol Murdered & Mutilated by Azov to Spare Western Governments Embarrassment?
By Kevin Barrett May 19, 2022
There is a reason why this article is headlined with a question. So far there is no hard evidence that NATO and its puppet Zelensky ordered that the NATO officers directing UkroNazi forces in Azovstal be murdered, and their corpses mutilated to prevent the Russians from identifying the remains. So sure, it's a question…but it's a good question. The man asking it, International Relations professor Michael Brenner (University of Pittsburgh) is one of the few American academicians brave enough to contemplate such things.
Azovstal plant in Mariupol is fully liberated
Ministry of Defense of Russian Federation 20.05.2022 (22:05)
The underground facilities of the enterprise, where the militants had been hiding, have come under full control of the Russian Armed Forces. Since May 16, a total of 2,439 Azov Nazis and AFU servicemen blocked inside the plant have laid down their arms and surrendered during the operation.
Today, the last group of 531 militants surrendered.
BREAKING: Azovstal Is Under Full Control Of Russian Armed Forces
South Front 20.05.2022
On May 20, the Russian Ministry of Defence confirmed that all the Ukrainian militants surrendered from the territory of the Azovstal Metallurgical plant in Mariupol.
Azov commander announces Azovstal an Mariupol resistance over
Pravda 20.05.2022
A video message from the commander of Ukraine's Azov* regiment Denis Prokopenko announcing the end of Azovstal resistance has appeared on the Internet.
See more at https://english.pravda.ru/news/hotspots/151970-azov_battalion_resistance/

Did Russia Really Capture Canadian General In Mariupol?
South Front 22.05.2022
Since the end of April 2022, information about the detention of senior NATO general Trevor Cadieux at Azovstal has been circulating on the Internet. Unfortunately, there is no confirmed information about this at this time. The Russian power structures have not yet officially reported it. Nevertheless, there is quite serious evidence to substantiate this information.
Azov surrenders. Who will be the sacred martyr now?
The Saker, May 22, 2022
On the night of May 17, after brief negotiations, Ukrainian army units, blocked by Russian troops at Azovstal in Mariupol, began to surrender. Initially, it was announced that the Ukrainian military wanted to hand over to Russia their wounded whose condition in the cellars of a huge factory was hopeless. However, it soon became clear that the entire "Mariupol garrison" as the remnants of the nationalist volunteer regiment "Azov" and the units of the Ukrainian army that had joined it were called by the Kiev-controlled media, were laying down their arms. So, on the morning of May 17, 90 wounded soldiers were pulled out of the basements and were joined by more than 250 healthy, albeit exhausted and filthy fighters. In a few days, that number reached 2,500 Ukrainian soldiers. That's why we wonder, what fate awaits them and other members of the Ukrainian army who surrender to Russian troops?
IMPORTANT—A Message for Americans
Gonzalo Lira, June 18, 2022
Ministry of Defense of the Russian Federation
The Russian military released details regarding the fate of foreign mercenaries in Ukraine, June 17, 2022. The list tells numbers of mercenaries per country of origins, arrived, killed, departed and total left per 17.6.2022. The list is here below: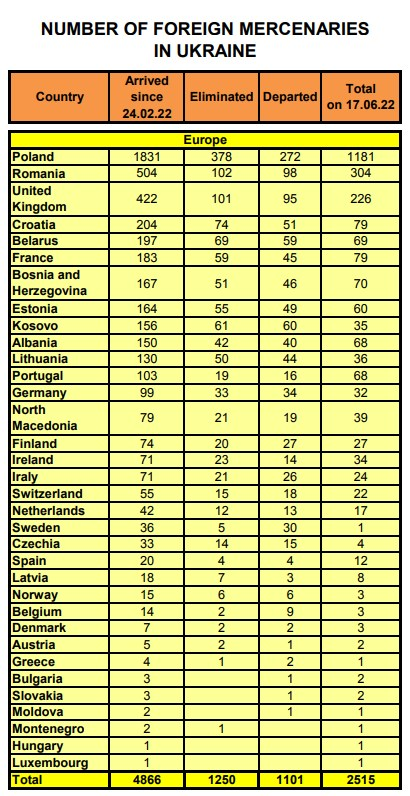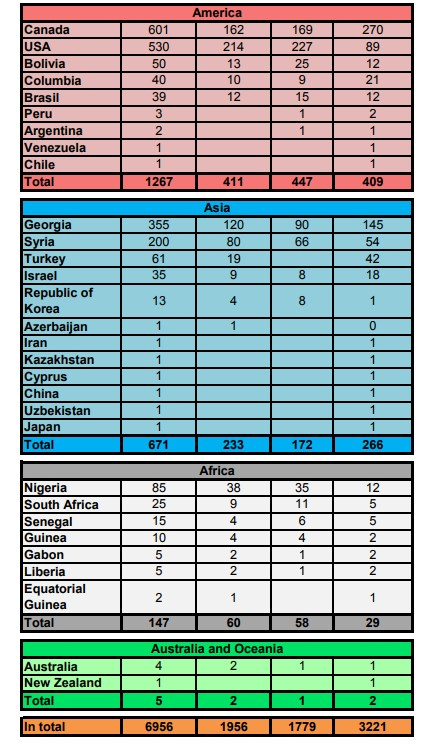 Brzezinski's Proxy War Playbook: "Regime Change in Moscow"
Global Research, June 26, 2022, The Libertarian Institute 22 June 2022
https://www.globalresearch.ca/brzezinski-proxy-war-playbook/5784601
Content
In 1998, President Jimmy Carter's National Security Advisor Zbigniew Brzezinski told Le Nouvel Observateur that the CIA "knowingly increased the probability" that the Russians would invade Afghanistan by covertly supporting the Mujahideen before the Soviet invasion. Later in that same interview, Brzezinski claims that this covert intervention caused the end of the Soviet Union.
In July 2014, almost six months after the Maidan Revolution and Russia's subsequent annexation of Crimea, Brzezinski hinted at a similar plan for Ukraine, although he couched it in defensive terms. He wrote on the Atlantic Council's blog: In September 2014, Brzezinski revisited the topic in an MSNBC interview. Despite Brzezinski's defensive framing in Ukraine, Washington's support for the Ukrainian military bears many similarities to its support of the Mujahideen.
In January 2022, a month before the Russian invasion of Ukraine, it was revealed by U.S. intelligence officials that the CIA had been providing covert assistance to the Ukrainian military since 2014. The program began under Barack Obama, was expanded under Donald Trump, and continued under Joe Biden. In Spring and early Summer 2022, the goal of Washington's involvement in Ukraine became more openly stated: regime change in Moscow. Was this always the objective?
Although Washington's actual role in provoking the Soviet invasion is debatable, one must wonder: if the Russian invasion of Ukraine were to bring the end of Putin's Russia, would Brzezinski's ghost and its lineage of Straussian ghouls champion Washington's role in exacerbating the conflict? More importantly, if regime change is the goal, what cost must the world be made to pay?
June 22, 2022, The Libertarian Institute
Patrick MacFarlane is the Justin Raimondo Fellow at the Libertarian Institute where he advocates a noninterventionist foreign policy. He is a Wisconsin attorney in private practice. He is the host of the Liberty Weekly Podcast at www.libertyweekly.net, where he seeks to expose establishment narratives with well researched documentary-style content and insightful guest interviews.
SCOTT RITTER: The Fantasy of Fanaticism
June 25, 2022 By Scott Ritter
Special to Consortium News
Despite what some "defense analysts" may be telling Western media, the longer the war continues, the more Ukrainians will die and the weaker NATO will become.
For a moment in time, it looked as if reality had managed to finally carve its way through the dense fog of propaganda-driven misinformation that had dominated Western media coverage of Russia's "Special Military Operation" in Ukraine. In a stunning admission, Oleksandr Danylyuk, a former senior adviser to the Ukrainian Ministry of Defense and Intelligence Services, noted that the optimism that existed in Ukraine following Russia's decision to terminate "Phase One" of the SMO (a major military feint toward Kiev), and begin "Phase Two" (the liberation of the Donbass), was no longer warranted. "The strategies and tactics of the Russians are completely different right now," Danylyuk noted. "They are being much more successful. They have more resources than us and they are not in a rush." "There's much less space for optimism right now," Danylyuk concluded. In short, Russia was winning.
A breaking point in Ukrainian War?
21.8.2022 With Scott Ritter, Alexander Mercouris and Glenn Diesen
An excellent discussion by three top professionals.
Ukraine Is Losing the War, and So Is Europe
Global Research, July 28, 2022
The Ron Paul Institute for Peace and Prosperity 27 July 2022
https://www.globalresearch.ca/ukraine-losing-war-so-europe/5788111
Beyond the damage in Ukraine, the war also has significant casualties in the rest of Europe as the continent is losing its most competitive energy supplies, compromising the region's manufacturing edge and accelerating an inflation wave that through higher energy costs will severely affect the wellbeing of its population this coming winter.
Europe has been trying for years to diversify its energy sources but it did not have a comprehensive contingency plan to counteract the impact of abruptly severing access to Russia's oil and gas since the beginning of the Ukraine war. European politicians have grossly exaggerated the substitution potential of other energy sources (like LNG) and are facing the need to accept alternatives that not too long ago were considered politically unpalatable, like the reopening of coal production in Germany.
How this gross miscalculation took place? Clearly, the European leadership has been unable to foresee the true economic consequences in Europe and beyond of the economic war unleashed against Russia. One explanation for the boldness and self-confidence surrounding the European standing against Russia at the beginning of the war was a strong belief that the combination of anti-Russian sanctions and military support to Ukraine would cause a significant weakening of Russia's political, social and military standing leading to its defeat. This explains for instance bold statements that the war would only be solved in the field as it was confidently said by the EU's foreign affairs representative back in March.
It can be argued that the wrong assessment on the war outcome has its roots in faulty US-British intelligence which forecasted Russia's defeat through economic warfare and, therefore, a limited impact of sanctions on Europe. This not being the case has now made European leadership to scramble for solutions. Meanwhile, the political fallout is already taking place, with Britain and Italy's prime ministers being the most visible casualties as victims of domestic political events unleashed by their own Russian sanctions. More importantly, it doesn't seem that the remaining European leadership (led by von der Leyen, Macron and Scholz) is willing to change course without losing significant credibility.
On the other hand, dissenting and unorthodox European political views are sounding louder, as Hungarian prime minister Orban's recent speech where he boldly mentioned that Russian sanctions and arming Ukraine have failed, Ukraine can't win the war, the more weapons go to Ukraine the more territory it will lose and that the West should stop arming Ukraine and focus on diplomacy.
At the heart of Europe's current troubles is its inability to balance its economic and security interests with enough autonomy to be able to look after its own interests. European ambiguity is not new, has its roots on the post-World War II architecture and the aftermath of the collapse of the Soviet Union, and in relation to Ukraine it manifested in its ineptitude to enforce the Minsk agreements that clearly offered a Russo-Ukrainian peace path but were unable to be enforced by France and Germany due to relentless US and Ukrainian pressure.
It seems that only significant political alterations in the European countries that matter -namely France, Germany and Italy- will allow a meaningful change of course from the current path of confrontation with Russia and ultimately economic self-destruction. Otherwise, any political initiative towards solving the war will be left in the hands of Russia and the United States and, if that is the case, any lasting agreement will not have European interests at heart. It would be tragic that a core European problem like the Ukraine war is finally solved through the dealings of an Euro-Asian and an American power.
Oscar Silva-Valladares is a former investment banker that has lived and worked in North and Latin America, Western & Eastern Europe, Saudi Arabia, Japan, the Philippines and Western Africa. He currently chairs Davos International Advisory, an advisory firm focused on strategic consulting across emerging markets.
Arms Transfers to Ukraine. Detailed Overview of Deliveries, Timeline
Global Research, September 06, 2022
https://www.globalresearch.ca/arms-transfers-ukraine/5792578
As tensions mounted in late 2021 and into 2022 concerning a Russian invasion of Ukraine, many countries announced arms transfers to Ukraine. As the invasion began in late February, this resource page was launched to track developments related to such transfers, which thus far includes pledges and/or deliveries from more than 25 countries plus the European Union.
Overview of pledged and/or delivered weapons (see timeline below for more details and links)
SCOTT RITTER: Why Russia Will Still Win, Despite Ukraine's Gains
September 12, 2022
Russia is no longer fighting a Ukrainian army equipped by NATO, but a NATO army manned by Ukrainians. Yet, Russia still holds the upper hand despite its Kharkiv setback.


By Scott Ritter
Special to Consortium News
Ritter starts his article with:
"The Ukrainian army began a major offensive against Russian forces deployed in the region north of the southern city of Kherson on Sept. 1. Ten days later, the Ukrainians had expanded the scope and the scale of its offensive operations to include the region around the northern city of Kharkov.
While the Kherson offensive was thrown back by the Russians, with the Ukrainian forces suffering heavy losses in both men and material, the Kharkov offensive turned out to be a major success, with thousands of square kilometers of territory previously occupied by Russian troops placed back under Ukrainian governmental control."
Ritter closes his article by saying:
"For Ukraine, the huge losses suffered by their own forces, combined with the limited damage inflicted on Russia means the Kharkov offensive is, at best, a Pyrrhic victory, one that does not change the fundamental reality that Russia is winning, and will win, the conflict in Ukraine."
Scott Ritter is a former U.S. Marine Corps intelligence officer who served in the former Soviet Union implementing arms control treaties, in the Persian Gulf during Operation Desert Storm and in Iraq overseeing the disarmament of WMD. His most recent book is Disarmament in the Time of Perestroika, published by Clarity Press.
The Saker, November 19, 2022
The proxy war between the U.S. and Russia is devastating Ukraine, ironically in the name of saving Ukraine
The Unz Review, Jeffrey D. Sachs • October 30, 2022
President Joe Biden is undermining his party's Congressional prospects through a deeply flawed foreign policy. Biden believes that America's global reputation is at stake in the Ukraine War and has consistently rejected a diplomatic off-ramp. The Ukraine War, combined with the administration's disruptions of economic relations with China, is aggravating the stagflation that will likely deliver one or both houses of Congress to the Republicans. Far worse, Biden's dismissal of diplomacy prolongs the destruction of Ukraine and threatens nuclear war.
Military Watch Magazine, November-16th-2022
On November 15 a surface to air missile for a Ukrainian S-300 air defence system struck the territory of neighbouring Poland, killing two civilians. Although there was initially speculation that the strike could have been perpetrated by Russia, which would have had severe consequences due to Warsaw's NATO membership and the alliance's collective defence obligations, it was confirmed by multiple sources the following morning that the missile had been Ukrainian.
U.S. President Joe Biden, Polish President Andrzej Duda and NATO Secretary General Gens Stoltenberg all issue statements emphasising that there was little doubt the missile had come from Ukraine, although Duda made an apparent attempt to tie the incident to Russia by referring to a "Russian missile" fired by Ukraine. This was on the basis of the S-300 system having been developed in the Soviet Union, with Ukraine inheriting larger quantities S-300s than any successor state other than Russia itself. CNN also cited anonymous Ukrainian officials confirming that the incident was the result of a Ukrainian missile launch.
Ukrainian President Volodymyr Zelensky has adamantly claimed that the missile which struck Poland was fired by Russia, urging a NATO response including imposing a no fly zone over Ukraine. The contrasting between the responses Zelensky and his government's supporters in the West have fuelled speculation that elements within Ukraine could have intended to stage a provocation to draw NATO into the war. The strike comes as Ukraine faces a growing prospect of being forced to abandon its major cities, with Russian strikes on infrastructure having made many of them including the capital Kiev near unliveable – a situation that is only expected to worsen as Russian attacks singling out power generation facilities continue to mount.
Evidence of an intentional Ukrainian strike on Poland, however, remains totally absent, with the quick response by the White House in particular having been key to preempting the emergence of wider calls for Western retaliation against Russia for the incident. Although not disputing that Ukraine was the perpetrator, British Prime Minister Rishi Sunak and NATO Secretary General Stoltenberg notably placed the blame for the incident on Russia on the basis that they viewed the entire war to be solely a result of Moscow's actions.
A Ukrainian strike on a neighbouring NATO member would not be unprecedented, with Ukrainian air defences reported to have been responsible for shooting down a MiG-21 fighter and an IAR 330-Puma helicopter over Romania in March. Also that month a Ukrainian Tu-141 drone crashed into the Croatian capital Zagreb. A Su-27 fighter shot down over Kiev in the first month of the war was also blamed on friendly fire from Ukrainian air defence assets. Russian sources have alleged that Ukrainian government forces were responsible for shooting down a Malaysian airliner – flight Mh17 – over the country's territory in 2014, although this remains hotly disputed.
The most notorious incident involving Ukrainian air defences was the use of an S-200 system to shoot down a Tu-154 passenger jet – Siberia Airlines Flight 1812 – which was flying from Tel Aviv to Novosibirsk in 2001. Although Ukraine's arsenal of long range air defence systems has been significantly depleted by the ongoing war with Russia, it is set to continue to receive short ranged systems such as the American MIM-23 Hawk and German IRIS-T SLM from NATO member states.
Mike Whitney • November 19, 2022, The Unz Review
The relentless attacks on Ukraine's electrical grid, fuel-storage units, railway hubs, and Command-and-Control centers mark the beginning of a second and more lethal phase of the war. The increased tempo of the high-precision, long-range missile attacks suggests that Moscow is laying the groundwork for a major winter offensive that will be launched as soon as Russia's 300,000 reservists join their formations in east Ukraine.
The whole article is available on the website of the Unz Review.